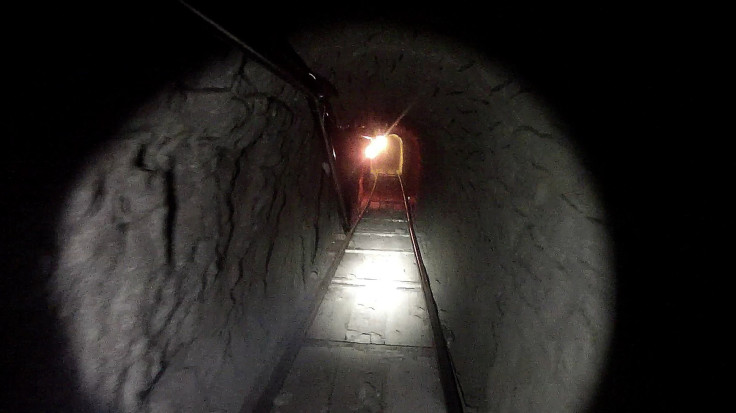 Over the course of the past decade, secret passages and tunnels have been discovered around the border of the United States and Mexico that have been used for smuggling drugs. Now, authorities are reporting that a 'sophisticated' tunnel has been found that connects San Diego, California to Tijuana, Mexico. In a statement, the U.S. Immigration and Customs Enforcement revealed on Wednesday that the drug tunnel was recently completed. The department spokeswoman, Lauren Mack, refused to give more details, but explained that more information would be released in due time.
Local Mexican media outlets have released photographs of the tunnel, showing that it is well-built and located near Tijuana's main airport. The tunnel is significantly more sophisticated than the other 75-some tunnels that authorities have discovered since 2008. A vast majority of these tunnels function to smuggle marijuana into the United States and are situated near California and Arizona. San Diego is a popular tunnel location, as its soil is easy to dig up. As for Arizona, the state has underground drainage canals that the smugglers tap into.
Here are four things to know about the drug tunnel: 1. The tunnel is the length of six football fields. It was 35 feet deep, 4 feet tall and 3 feet wide. 2. The drug tunnel has been called a 'super tunnel' by officials, and rightfully so! It has lighting, ventilation and an electric rail system. 3. Authorities have revealed that the drug tunnel was built by the Sinaloa drug cartel, a notorious criminal organization in Mexico. 4. During the raid, authorities have taken three people into custody and have seized over 8 tons of marijuana and 325 pounds of cocaine in the tunnel.
"If you continue to build and attempt to use these tunnels, we are determined to make this a big waste of your dirty money," said U.S. Attorney Laura Duffy to reporters, according to CNN. "Not only will we take your drugs and shut down your tunnels before you even get an opportunity to use them, but we're now in a position where we're going after your management." Duffy added: "It was just two years ago, November 2011, that we discovered and shut down two elaborate super tunnels like the one here today. And at the time we did so, we stood before you and we warned the cartels directly. If you build them, we're going find them, and if we find them, we're going to destroy them. Today, we again make good on that promise."
© 2023 Latin Times. All rights reserved. Do not reproduce without permission.