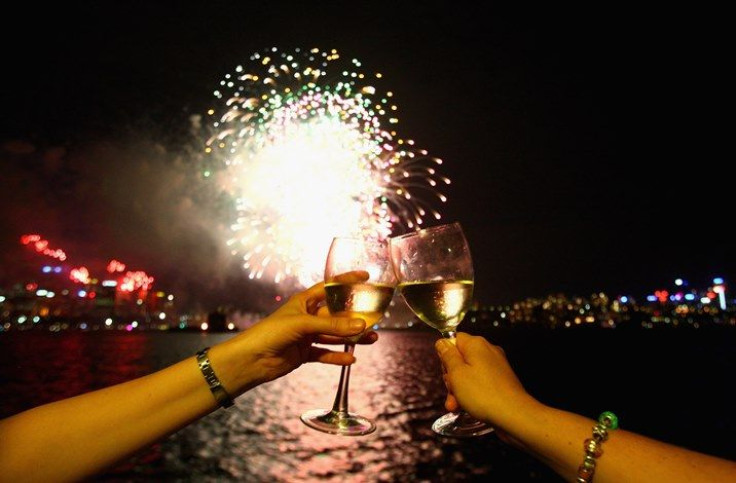 New Year's Eve is one of the most important holidays of the year. It is a time of celebration as we greet a new year of opportunities, goals and new memories that will be created. New Year's Eve is a time of celebration, drinks, dancing, laughter and joy spent with your loved ones. If you are hosting New Year's Eve celebration we have 6 New Year's Eve themed cocktails recipes that are delicious, easy to make and creative. You can never go wrong with Champagne of course but getting creative will have the party you hosted to be the talk of your guests for days. Check out the recipes for the drinks below and enjoy.
4 pounds red grapes, stemmed
One 750-milliliter bottle dry sparkling wine, such as Prosecco, chilled
8 mint sprigs
Thinly slice 1 cup of the grapes and refrigerate. In a food processor, coarsely chop the remaining grapes in batches. Transfer the chopped grapes to a saucepan and bring to a simmer. Cook until the grapes have released most of their juice, 5 minutes.
Working in batches, strain the grape juice into a bowl, pressing hard on the solids. You should have about 3 1/2 cups of juice; refrigerate until cold.
Divide the sliced grapes equally among 8 Champagne flutes. Pour the chilled fresh grape juice into the flutes and top with the sparkling wine. Garnish each drink with a mint sprig and serve right away.
2 whole canned lychees, plus 1/2 cup drained syrup
1/2 cup gin
Place 1 lychee in each of two martini glasses. Fill a cocktail shaker with ice. Pour in gin and reserved lychee syrup. Shake well; strain into glasses. Serve immediately.
1 ounce(s) premium vodka (or tequila, if you prefer)
1ounce(s) cold espresso
1/2 ounce(s) Tia Maria
1/2 ounce(s) Kahlúa Especial
To prepare drink: Pour ingredients into a shaker filled with ice. Shake and strain into a martini glass (or three shot glasses).
To serve (optional): Rub the pith of an orange along the rim of each glass. Dip rim into cocoa powder spiked with a dash of cayenne pepper; tap glass to remove excess. Pour drink.
1 spoonful lemon sorbet, softened
1/2 ounce citrus vodka (optional, for a stronger drink)
4 ounces rosé champagne
2 to 3 raspberries, for garnish
Combine the sorbet with the vodka in a cocktail shaker with ice. Shake vigorously. Add the champagne and stir. Strain into a chilled champagne flute and garnish with floating raspberries.
1 1/2 ounces vanilla-infused vodka, recipe follows
1 1/2 ounces coconut rum
1 teaspoon egg white
1 1/2 ounces coconut creme
Splash vanilla extract
Ice
Combine the vodka, rum, coconut creme, egg white, vanilla extract, and ice together in a cocktail shaker and shake to incorporate.
Place the chocolate sauce in a plate. Rim the glass in the chocolate sauce and garnish with the macaroon cookie.
In a tall glass container, combine the vanilla beans and vodka. Cover and steep for 3 days.
2 1/2 cups freshly squeezed orange juice (5 to 6 oranges)
1 orange, zested
1 cup half-and-half
1 cup superfine sugar
1 bottle sparkling wine or Champagne
Strawberries, for garnish
*Non-alcoholic sparkling wine, sparkling cider, or ginger ale can be substituted
Put orange juice, zest, half-and-half, and sugar into a blender and process until the sugar has dissolved, about 30 seconds. Pour this mixture into a shallow pan and freeze until hard, 4 hours or overnight.
Remove the frozen orange mixture from the freezer and let it sit to soften slightly, about 10 minutes. With a scoop or tablespoon, scrape out a small scoop and put it into a Champagne glass. Slowly fill the glass with Champagne and serve garnished with strawberries.
© 2023 Latin Times. All rights reserved. Do not reproduce without permission.