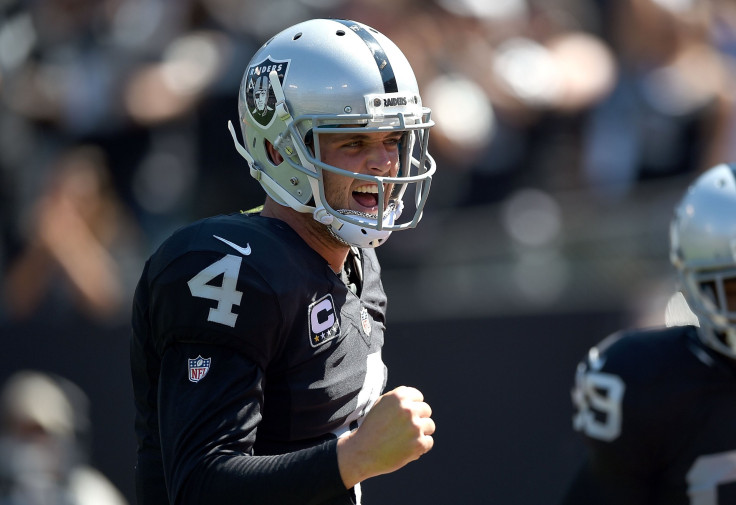 We're heading into the final playoff push, and who would have thought the Oakland Raiders would be the No. 1 seed in the AFC?
With their 38-24 win over the Buffalo Bills, the Raiders extended their win streak to six games, and now have an overall record of 10-2. Now, when you look at the standings, you will notice that the New England Patriots are also 10-2, but they are the No. 2 seed in the AFC behind the Raiders. Both the Patriots and Raiders have identical records at 10-2 and they are each 7-1 in conference games.
The Raiders get the tie-breaker over the Patriots because they have a superior record in common games.
The key here is Week 4 and Week 13. Back in Week 4, without Tom Brady, the Patriots lost to the Bills, 16-0. Rex Ryan's squad was victorious in that game, but this week they fell to the Raiders, 38-24. Based on that "common game" the Raiders now have the tie-breaker over the Patriots for the No. 1 seed in the AFC.
As we all know, the top two seeds in the conference get a bye week come playoff time. As it stands now, the Patriots and Raiders have a wide lead on the rest of the competition. The No. 3 seed Baltimore Ravens are just 7-5. Getting that top seed guarantees not only a bye week in the wild card round, but it also secures home-field advantage throughout the postseason. That means that if everything stays as is, the Patriots would have to play the Raiders in Oakland come playoff time if the two teams meet.
The Raiders play three of three of their last four games on the road, and it won't be easy. They still have to play the Denver Broncos and Kansas City Chiefs. The Patriots, now without Robert Gronkowski, still have to play the Baltimore Ravens and Denver Broncos.
© 2023 Latin Times. All rights reserved. Do not reproduce without permission.