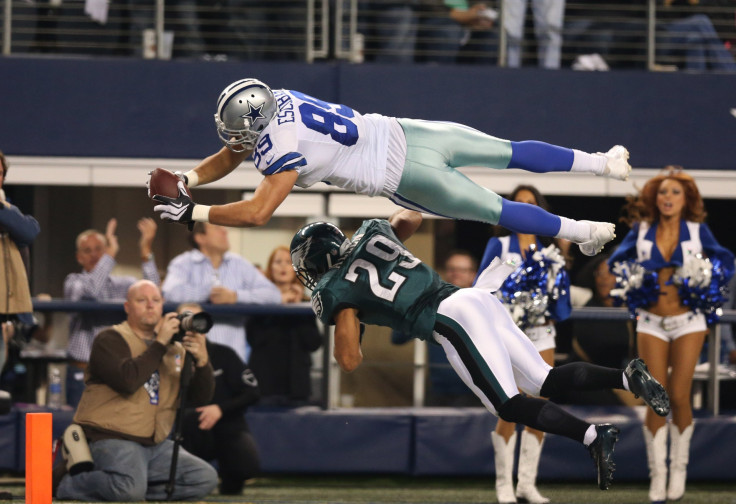 It's been a mathematical combination for decades: turkey + NFL football = Thanksgiving. The one just wouldn't be the same without the other. This Thanksgiving is no exception as the NFL has three great games on tap. So grab your loved ones around the television, explain to them who Johnny "Football" is and let them watch Hispanic star Tony Romo lead America's team against the Philadelphia Eagles.
Thanks to Romo and Dez Bryant's last minute come from behind victory against the New York Giants on Sunday Night Football, the Cowboys come into the game tied for first place with the Eagles. Their Thanksgiving showdown may do more than just provide entertainment as you digest your dinner, it should decide supremacy in the NFC East.
Thursday's matchup will be the first meeting between the two NFC East rivals, as they will face each other again in a little over two weeks. "It's going to be a great game," said the Eagles Fletcher Cox. "I'm really excited. We're ready for Thursday."
Both teams are coming in with victories after disappointing losses in previous weeks. The Cowboys have won two straight against Jacksonville and the NY Giants after a disappointing home loss against the last place Washington Redskins.
Philadelphia lost to Green Bay two weeks ago before bouncing back with a 43-24 victory last week against Tennessee. The Eagles have won three of their last four games at the "House that Jerry Jones built." However, the last game was a 24-22 thriller in week 17 of last year that won the NFC East for Philadelphia. Latino quarterback, Tony Romo, did not play in that game and he wants to let everyone know he's ready to go for this year's contest.
Romo comes into the game peaking at the right time after fracturing a vertebra in his back three weeks ago. Romo has thrown seven touchdowns and no interceptions in his last two games. He threw for 275 yards and four touchdowns in Sunday's victory over the Giants including the game winning touchdown to Bryant.
"Everybody knows that we won, but when we land in Dallas, that game no longer matters," said Bryant about the Thanksgiving day clash.
Both teams post elite rushing threats as Cowboys running back DeMarco Murray currently leads the NFL in rushing and posted his tenth 100-yard game against the Giants last week. The Eagles bring 2013's NFL rushing leader, LeSean McCoy, who ran for 130 yards and a touchdown last week against Tennessee.
In addition to running backs, the game features the first matchup of Latino quarterbacks of 2014. Both Romo and Eagles starting quarterback Mark Sanchez are Hispanic and will look to lead their teams to the NFC East division crown on Thanksgiving.
The NFC East battle kicks off at 4:30PM EST in Arlington, Texas and can be seen live on FOX.
© 2023 Latin Times. All rights reserved. Do not reproduce without permission.