The Washington Football Team's NFL season is headed towards another disappointing finish and charges of Ron Rivera were dealt with another blow. Kyle Allen will reportedly undergo ankle surgery, something he sustained in Washington's loss to the New York Giants last Sunday.
According to ESPN, Allen suffered a dislocated ankle and a small fracture. With him out, Rivera will have to end the current NFL season with Alex Smith and Dwayne Haskins.
Footage of the Allen injury was captured on YouTube, a gruesome injury that is not for the faint of heart. Rivera initially seemed confident that the 24-year-old could return but doing so made no sense. Surgery is the best remedy to address the injury. Looking ahead, there is no official timetable on when Allen could return. But from the looks of it, he will be out for quite some time.
Smith will start for Washington when they face Detroit next week. Haskins will be elevated to the no. 2 position, clearly indicating that Allen may be out for the rest of the way.
Ironically, Allen took the starting quarterback role from Haskins in Week 5. But it is Smith who has been in focus, nearly leading his team to victory. That was before he threw high to running back J.D. McKissic at the New York 44-yard line and the ball tipped off his hands and into the hands of Giants safety Jabrill Peppers.
Regardless, Smith completed 24-of-32 passes for 325 yards and one touchdown with three interceptions. With Allen out, he and Haskins get the chance to show Rivera that they deserve playing minutes with Washington.
"You have a very veteran quarterback who has helped nurture some good young quarterbacks," Rivera said of Smith. "He's showed them how to prepare and study for a game. This is good for Dwayne. He'll get an opportunity to see how to truly prepare for a game as a starter and hopefully Dwayne will take it that this is an opportunity to learn and grow. He may get an opportunity again shortly. He has to be ready and prepare as if he's one play away."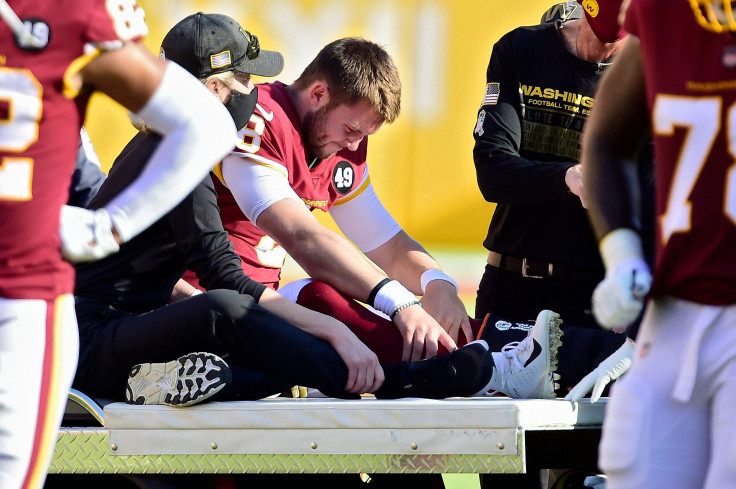 © 2023 Latin Times. All rights reserved. Do not reproduce without permission.