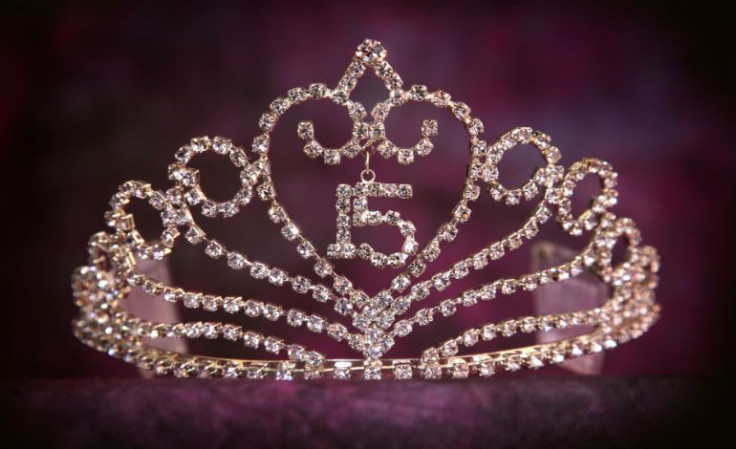 For the most part, a traditional quinceañera party, honoring a girl's 15th birthday, is held at a venue with pretty decorations, friends wearing matching gowns and suits and a surprise choreography. There's also the more modern girls who prefer to celebrate with close friends and family in a quinceañera cruise ---yes, there is such a thing. One teenage girl in Nicaragua, however, decided to celebrate her special day at her mother's job in el mercado central (the local marketplace).
Lucia Mercedes Alvares, who lives in Leon, Nicaragua with her mother Sara Nohemí Paz Tellería, 34, did not want to host her sweet 15s at her home; instead, she opted for the fiesta to be held at el mercado, where her mother has sold tamales for the past two decades.
According to La Prensa de Nicaragua, who shared the heartwarming story, the young girl wanted to have her fifteens at the marketplace because it's her second home.
"She asked me and told me: 'mom, I don't want it in the house, let's do it in the marketplace because that's where my friends are and where I was raised,'" the mother said to the Nicaragua publication, emphasizing that she would always take her daughter to her job ever since she was born.
As a single mom, the vendor feels blessed to have celebrated her daughter's birthday party on July 30th, which took a lot of sacrifice. According to Maria Vargas, another vendor in the marketplace, the mother would clock in at 7 a.m. every day and save from her daily earnings of 300 cordobas (about $11) to make he daughter's wish come true. The quinceañera party, with beautiful pink dress and tiara included, cost the mother about 30,000 cordobas (a little bit over $1,000).
As for the birthday girl, she feels very grateful. "I wanted my fifteenth birthday to be celebrated with everyone who works in the marketplace, this is where I grew up," she said. "I thank my mom for this, I love her and she's the only wonderful mother."
Esta jovencita decidió celebrar su fiesta de 15 años en el Mercado Central de León, Nicaragua, donde creció... Junto a...

Posted by La Prensa on Thursday, July 30, 2015
#Mercados Mamá y comerciantes organizaron una fiesta de 15 años en el Mercado Central de León.Lea más de esta historia en: bit.ly/1SQTIeJ

Posted by Periódico HOY on Friday, July 31, 2015
© 2023 Latin Times. All rights reserved. Do not reproduce without permission.