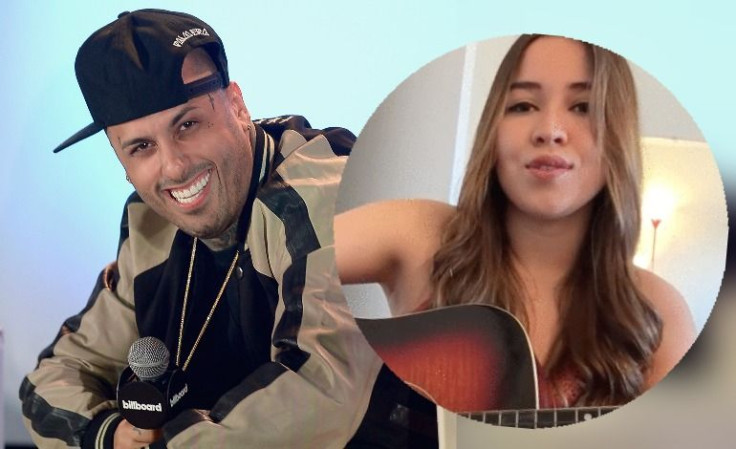 Karina Blandon never imagined she would become a viral sensation -- one day she had 50 followers on Instagram and the next she had over 2,000. Her social media success is all thanks to a short video clip she shared on the photo-sharing app, where she's singing an acoustic version of Nicky Jam's English-language single "With You Tonight."
Although many of her close friends and family members praised her effortless talent on social media, the 22-year-old Nicaraguan girl got noticed by thousands of people on the Internet when the Puerto Rican artist himself commented on her post. "Nice, I loved it," expressed the 35-year-old star. According to the talented aspiring singer, who told Latin Times all about her once-in-a-lifetime experience, the "El Perdon" singer even wrote to her directly to let her know that she has a beautiful voice. (Check it out in the video below!)
"With You Tonight" is a romantic reggaeton tune, English-language version of Jam's hit "Hasta El Amanecer." The original Spanish version had been No. 1 on Billboard's Hot Latin Song chart for seven consecutive weeks, according to Billboard.
The track, which launched earlier this month, includes a lyric video that has already garnered over 915,000 views since its release date. "Girl, you know that I'll do anything to know a little more than just your name," sings the Boston-born urban artist in his fresh single.
Nicky also announced the second leg of his "The Fenix Tour" in the U.S., which kicked off in March with guest stars such as Gente De Zona, Piso 21, Zion & Lennox, Ken-Y, Silvestre Dangond and more artists in the music biz. With another set of 12 shows confirmed, Jam will continue making the rounds in the U.S. in cities such as Los Angeles, Las Vegas,and San Antonio. The second half of "The Fenix Tour" kicks off in July. For full tour dates, visit here.
© 2023 Latin Times. All rights reserved. Do not reproduce without permission.