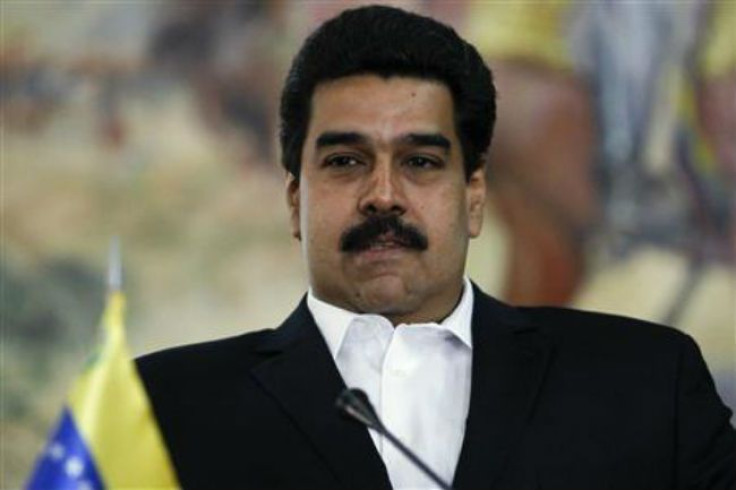 Venezuelan President Nicolás Maduro became the subject of Twitter gossip - and the object of ridicule on all sorts of social media - after an unfortunate slip of the tongue made during a speech transmitted from Miranda state on Wednesday morning. In commenting on plans to expand and improve access to education, Maduro made allusion to the Biblical miracle of the seven loaves and fish, but misspoke: instead of the Spanish word for fishes ("peces"), the Venezuelan president said "penes", meaning "penises". Scroll down to watch video of his comments.
Dressed in an Adidas track suit in the bright red, blue and yellow colors of the Venezuelan flag, Maduro told the audience, "We need to go in school by school, student by student, high school by high school, community by community, get in there, multiply ourselves, just like Christ multiplied the penises - ", realizing his mistake, he paused to correct himself, " - pardon me, the fishes and the loaves. Pardon the expression. Just like Christ multiplied the loaves and the fish."
A quick review of the Twitter comments revealed a number of users who characterized the slipup as a "Freudian slip" or wondered what the late psychoanalyst would've said about Maduro's mistake. That strain of sentiment could reflect the acerbic debate between Maduro's United Socialist Party and the political opposition - as his opponent in the latest elections, Henrique Capriles, continues to insist that the elections were stolen, Maduro has accused Capriles of running a "transvestite and gay prostitution ring". Others statements by Maduro have been qualified as "gaffes" less for their Freudian qualities than for their perceived ridiculousness. The best known of these came when Maduro, during the two-week campaign trail for the presidency following the death of his predecessor Hugo Chávez, claimed he'd gotten a visit from Chávez in the form of a little bird which gave him his blessing and urged him to victory.
The gaffe is the second by Maduro to make waves in the Venezuelan press in August. The other occurred during a speech on August 10 in which the Venezuelan president incorrectly pronounced the word for "millions" as if it were a feminine noun (there are no gender-neutral nouns in Spanish). "Such a great history this country has lived...today we have a generation of gold shining for the world to see," he said then, "in politics, in culture, in sports, el millones y millonas de Bolívar" - the millions and millions of South American revolutionary leader Simón Bolívar. That slipup was later sent up in the cartoon series "La Isla Presidencial" ("The Presidential Island").
RELATED: Maduro To Arm New Workers' Militia; Does The Venezuelan President Distrust The Military?
© 2023 Latin Times. All rights reserved. Do not reproduce without permission.