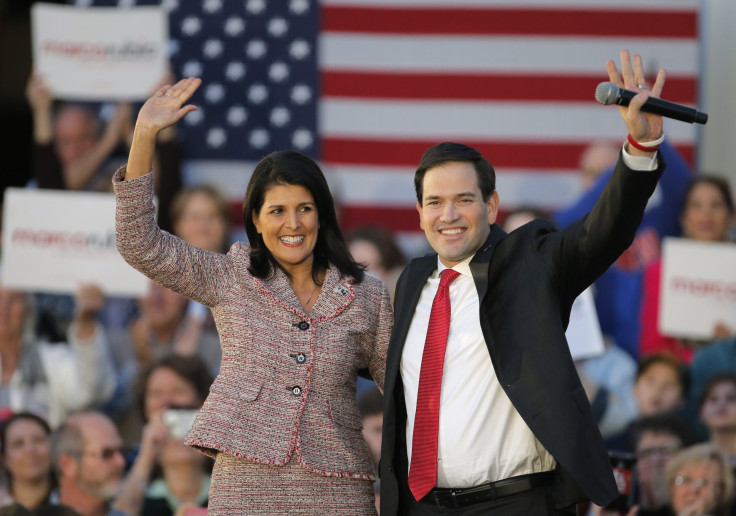 South Carolina Gov. Nikki Haley endorsed Marco Rubio for president this week, formally teaming up the GOP's most prominent second-generation immigrants. Both have criticized GOP primary frontrunner Donald Trump in a presidential election contest that has become a battle for the soul of the Republican Party. Rubio's anger with Trump started on the GOP debate stage in the Reagan Library, where he defended the use of Spanish to Trump, who has adopted a hardline nativist approach to immigration. Since then, the two have tussled over immigration and other issues.
It's hard to say when Haley's assault on Trump and his supporters began. Maybe it started with her declaration that she is a "proud daughter of Indian immigrants" and her plea for Republicans to resist "the siren call of the angriest voices." Maybe it started with her decision to remove the confederate flag from the South Carolina state capital, a move that Trump supporters in her state say was unforgivable.
Rubio, the son of Cuban immigrants, started his campaign at Freedom Tower, the proverbial Ellis Island of refugees from the island. (His parents, however, were economic migrants, not victims of the regime). While he hasn't exactly be the voice of immigrants on the campaign trail, he has offered an alternative to Donald Trump and Ted Cruz, hardline conservatives who have repeatedly attacked Rubio for his past support of comprehensive immigration reform.
Something short of a "Trumper Tantrum," the businessman took a shot at Haley Thursday over immigration following her endorsement of Rubio after he had complimented her all week.
"She's very, very weak on illegal immigration,'' Trump told a crowd of supporters in South Carolina on Wednesday. "She's very, very weak on illegal immigration," he repeated. "You can't have that.''
Rubio unlikely to win South Carolina (Trump leads him by more than 10 points in the polls), but Haley's endorsement could help him place second ahead of Cruz. A strong showing could keep him in the race and convince establishment supporters to rally behind him.
Haley's endorsement is helping seal Sen. Rubio's status as the establishment favorite, cutting out governors Jeb Bush and John Kasich. Rubio's campaign hopes that the endorsement will revive the momentum that he gained in Iowa, only to lose it in a poor showing in New Hampshire.
If she can push Rubio into the GOP nomination, Haley might also be on the shortlist for vice president. That would not only save the GOP from a deep split but also help redefine it as a party where children of immigrants can feel welcome. First the candidates will have to beat back Trump and Cruz.
Can Rubio and Haley defeat Trump, or is the GOP fixated on his "siren call?" Let us know what you think in the comments below.
© 2023 Latin Times. All rights reserved. Do not reproduce without permission.