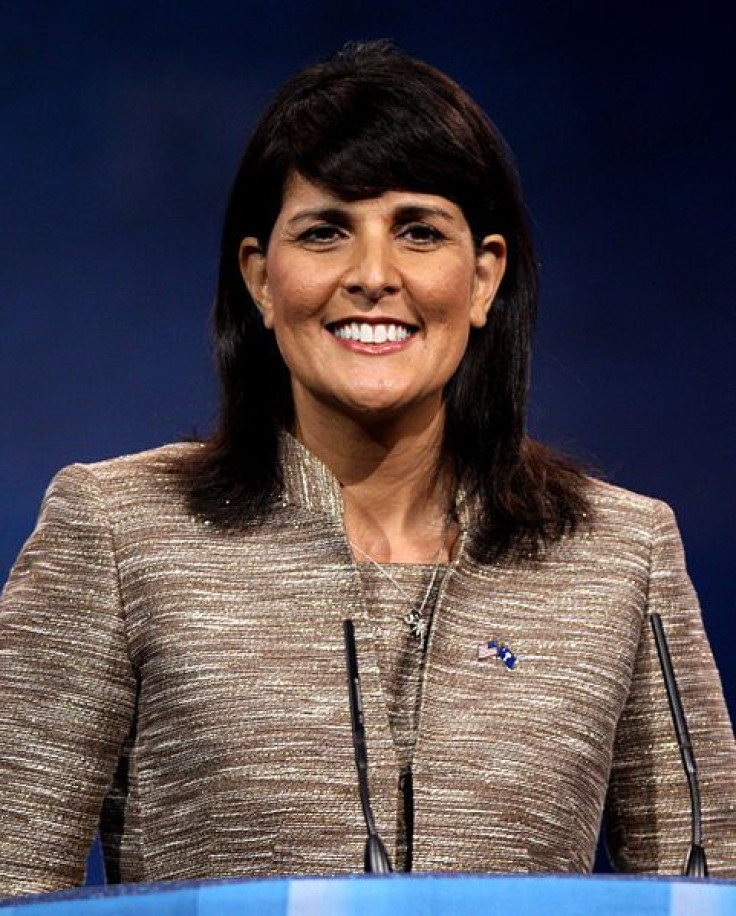 The first person to oppose Donald Trump for the Republican presidential nomination, Nikki Haley, conducted her first campaign event on Wednesday in Charleston, South Carolina.
Hundreds of her followers crowded into "the Shed," a covered outdoor venue in central Charleston.
Usually a venue for live music and weddings, it was decked up in patriotic grandeur on this particular day, with red, white, and blue bunting, an American flag flying over the stage, and twin banners honoring South Carolina's palmetto and crescent states surrounding a huge "Nikki Haley" sign.
A mix of '70s soul and rock classics belted out of loudspeakers before Haley - who was born in 1972 - made her appearance.
She is hopeful that these supporters and Republicans in other parts of the country seek a fresh approach and appearance in a candidate. Can she pull it off, that is the question, reports BBC.
Nikki Haley has never lost an election for public office, which is the first thing to know about her. Her bid for the Republican presidential nomination in 2024 will put her impressive record to the test.
According to Dave Wilson, president of the Palmetto Family Council, an evangelical Christian organization with a base in South Carolina, her opponents underestimate her at their peril. During her first campaign 19 years ago, he witnessed it firsthand.
"Few people understand how well Nikki Haley does retail politics," he said. "Nikki would sit there and hand out doughnuts at the entrance to neighborhoods. She'd put on a pair of jeans and a pair of boots and go to the biker bar and sit there and talk with them."
In states like Iowa and New Hampshire, which have elections before South Carolina on the Republican nomination calendar, retail politics will be useful.
Haley's resume, which at this stage of her career is quite well-rounded, is another one of her strengths.
She rose to national fame in 2015 when, in response to a racially motivated mass massacre at a black church, she successfully pushed to have the Confederate flag taken down from the state capitol in Columbia.
The decision was positively received by the state's business leaders, who feared escalating boycotts and unfavorable press due to the display of the flag.
"It was the right moment. It was the right time," Mr. Wilson said. "She was a strong personality to make those things happen. Nikki Haley worked really hard to get businesses to come to South Carolina, and she bucked up against the good old boy system."
Haley initially supported other candidates in the 2016 Republican primary, but she supported Trump in the general election and was chosen by him to be the UN ambassador when he won.
Haley was able to advance her foreign policy credentials in the Cabinet-level role. She promoted the Trump administration's support for Israel while serving in the UN and was an outspoken critic of Iran.
"China's dictators want to cover the world in communist tyranny, and we are the only ones who can stop this," she said at her Charleston rally. "But we won't win the fight for the 21st Century if we keep trusting politicians from the 20th Century."
At 51, she is far younger than both Trump and Joe Biden, a prospective Democratic challenger.
She led South Carolina as the first woman, the first person of color, and the youngest governor in the US in 2010.
Haley has previously said that the 2008 presidential campaign of Hillary Clinton inspired her to enter politics.
"I think we need a new candidate, and I think that we need a female in there to tell these men how to do things just the right way," said Suzie Vahala, a Haley supporter from nearby Mt Pleasant who attended the campaign event. She says that she supported Mr Trump in past campaigns, but the party needs to move in a different direction in 2024.
A shift in tone and approach from Trump may be exactly what Haley's followers desire.
According to a recent survey by the conservative think group South Carolina Policy Council, half of those who had a "very positive" opinion of Donald Trump doesn't want him to run and don't believe he can win.
"He just needs to be quiet," she added. "He can't shut his mouth."
"They're tired of the chaos or they don't think other people will vote for him," said Dallas Woodhouse, executive director of the council. "So I think there's an opportunity in South Carolina and other places for Governor Haley."
Even if Haley's resume appears to be ideal for presidential success in principle, the situation is far murkier in practice.
Though the former ambassador's tough stance on China may be popular with Republican voters, her opinions on Vladimir Putin and Russia have led some on the right to brand her a warmonger.
"Nikki Haley is a cheerleader for the military industrial complex," Charlie Kirk, founder of the conservative youth group Turning Point USA, said on his radio program.
The person who continues to lead many Republican polls for 2024, and who is also her former boss, maybe her toughest challenge.
Trump and Haley had a tumultuous relationship. The president gave her a heartfelt farewell, making her one of the few early Cabinet-level officials to do so.
After he challenged the results of the 2020 election and his followers attacked the US Capitol, she criticized him, but a few months later she declared she would support him if he ran for president again. She then started moving steadily in the direction of starting her campaign.
She never once mentioned the former president by name in her announcement video or throughout her 26-minute campaign address in Charleston, although she occasionally talked around him.
"We're ready to move past the stale idea and faded names of the past," she said. "And we are more than ready for a new generation to lead us into the future."
"Nikki Haley has always had a massive Donald Trump problem," said Miles Taylor, co-founder of the Forward Party and a National Security Council staff member when Haley was in the Trump White House.
"Like a lot of us, she privately abhorred the president. But then publicly she was effusively supportive of the president - and it was very clear why. Nikki Haley very much had her own political ambitions."
Trump's political action committee has called her "a career politician whose only fulfilled commitment is to herself".
On Wednesday, the former president made light of the fact that Haley was South Carolina's governor by joking that he had nominated her as the UN ambassador as "a favor to the people I love" in the state.
Polls indicate that Haley will have a difficult time converting Republican voters.
Haley trails far behind Trump and Florida Governor DeSantis, who has not yet announced his presidential candidacy.
Haley doesn't currently occupy a political position from which to get recognition. She also doesn't have a sizable war chest to fund her campaign.
She does, however, have a resume, political acumen, and a unique history. That will have to be sufficient if she wants to be president in two years.
© 2023 Latin Times. All rights reserved. Do not reproduce without permission.