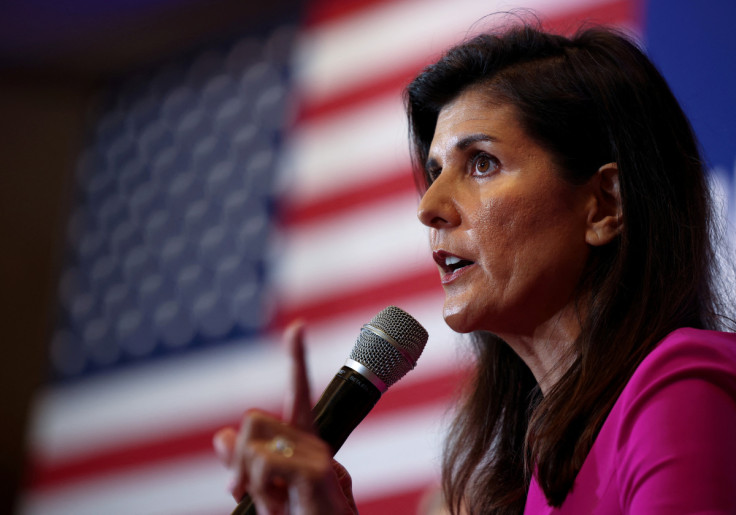 Former South Carolina Governor Nikki Haley now holds the second place in preference of likely voters in the New Hampshire's Republican presidential primary, according to a CNN poll.
Support to Haley jumped to 20% from 12% in September, the poll, conducted by the University of New Hampshire, showed. Former President Donald Trump keeps a commanding lead, with 42% of support.
Former New Jersey Governor Chris Christie is in third place, with 14%, followed by Florida Governor Ron DeSantis, with 9%, and tech entrepreneur Vivek Ramaswamy, with 8%.
The poll shows a drop of 5 percentage points for Ramaswamy from September, while the support to Trump, Christie and DeSantis remained relatively stable.
The New Hampshire primary will be held Jan. 23, following Iowa caucuses on Jan. 15, which start the state primary votes.
The CNN poll was conducted online Nov. 10-14, with a sample of 1,946 New Hampshire adults, and it has a margin of error of plus or minus 2.2 percentage points.
Another poll by NBC News/Des Moines Register/Mediacom released at the end of October showed that DeSantis and Haley both had 16% of preference among likely caucus-goers in Iowa. Trump had a lead of 43%.
Five primary Republican presidential candidates debated last week in Miami, aiming to portray themselves as alternatives to Trump as the party's nominee for the 2024 election. The former president has been skipping debates, labeling them as "unwatchable" and a "waste of time."
The fourth GOP primary debate is scheduled for Dec. 6 in Alabama.