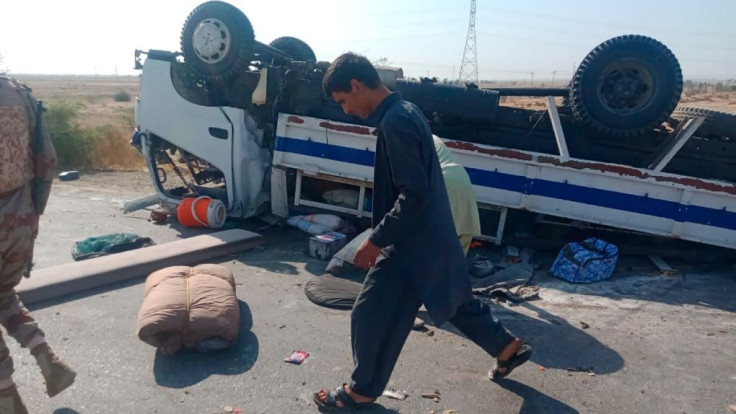 In southwest Pakistan on Monday, a suicide bomber crashed a motorcycle into a police truck, killing nine officers, according to a police official.
The attack happened in Sibbi, a city located about 100 miles east of Quetta, the capital of the province of Balochistan, according to spokesman Mehmood Khan Notizai.
Nine security officials were killed during the attack in southwest Pakistan and several others were injured, New York Post reported.
The blast occurred when the officers were returning to Quetta after policing a festival. Images show an overturned and crushed police vehicle with blood on the ground.
In the last 24 hours, security troops in Balochistan have been attacked twice. No organization has taken responsibility.
It was a suicide attack, Sami Agha, the deputy police commissioner for the Kachhi area, told the BBC.
Authorities claim that the area has been sealed off and that a bomb disposal team is on the scene gathering evidence.
The Balochistani administration denounced the assault and announced that an investigation was ongoing.
The attackers were attempting to destabilize the nation, according to Shehbaz Sharif, the prime minister of Pakistan.
He sent out a tweet expressing his condolences and referring to the officers as "heroes of the nation" who had been "martyred".
Balochistan's Chief Minister Abdul Quddus Bizenjo said, "All such conspiracies against peace in the province will be made unsuccessful with the public's support."
The attack on Monday is the latest in a series across Pakistan targeting security personnel.
At Gwadar, a port city in the province, a bomb strike on Sunday targeted a car, killing a security official and injuring eight people.
The separatist Balochistan Liberation Front, an outlawed militant organization, has taken responsibility.
More than 80 police personnel were killed on Jan. 30 in a bombing at a police mosque in Peshawar, a city in northwest Pakistan.
Although it is unknown who is responsible for the most recent event, separatists in the Balochistan region have been at war with the government for decades.
A number of earlier attacks of this nature have also been blamed on the Pakistani Taliban.
Balochistan is the country's poorest province and shares a large, porous border with Afghanistan and Iran.
Balochistan is a province of Pakistan. Located in the southwestern region of the country, Balochistan is the largest province of Pakistan by land area but is the least populated one.
It is bordered by the Pakistani provinces of Khyber Pakhtunkhwa to the northeast and Punjab to the east and Sindh to the southeast.
It shares international borders with Iran to the west and Afghanistan to the north.
It is also bound by the Arabian Sea to the south.
© 2023 Latin Times. All rights reserved. Do not reproduce without permission.