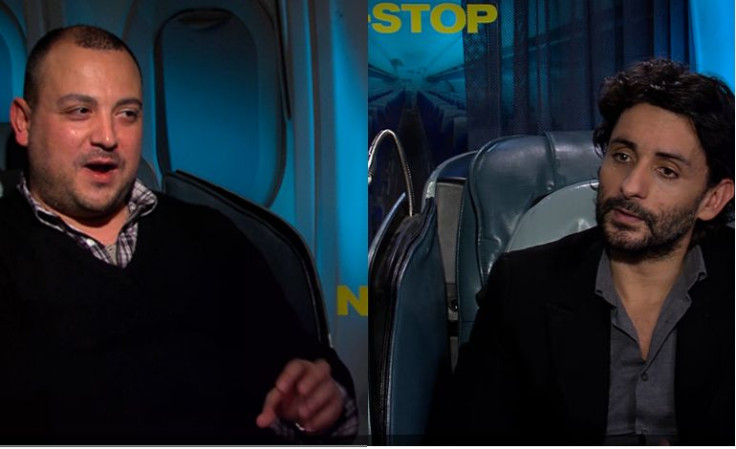 Fasten your seat belts, and hold on tight. For the next 106 minutes, you're gonna have the thrill of your life. "Non-Stop" marks the fifth movie of Spanish director Jaume Collet-Serra in Hollywood. After his high-adrenaline flick "Unknown," the 39-year-old director reunites with alter-ego Liam Neeson for a film that develops in very high altitudes, as Hollywood's favorite action hero is trapped in the middle of a highjacked plane ... and all fingers point to him as being responsible.
With highly stylized visuals, and literal non-stop action, Collet Serra avoids all clichés and makes the first great movie of 2014. Latin Times' Editor-In-Chief Ernesto Sánchez sat down with the Catalonian filmmaker and discussed, on-camera, the technique behind the film and the casting of Mexican-born Oscar nominee Lupita N'yongo. SEE THE VIDEO ABOVE.
Latin Times also sat down with the stars of the movie, Neeson and Julianne Moore who reunite onscreen after the not so fortunate thriller "Chloe," in which they co-starred along Amanda Seyfried. The interview, conducted on a very cold and snowy day at the Ritz Carlton hotel in Central Park became warm as both actors proved to be grounded, funny and kind.
"First of all, can I say that Julianne is one of our great screen actresses," says Neeson. "We are so lucky to have her. When I first read the script and saw that her character was described as the passenger sitting next to me who may be senile, it was quite a bland part but she elevated the whole film."
A very honest statement, as the part, indeed, is not substantial for Moore, but she simply out did it.
"Well, Liam had a lot to do with that, honestly; and Joe Silver," recalls Moore who made her scren debut with said producer for the movie "Assassins."
"I was sharing with some people just the other day that my first movie was with Joel Silver so when he called me about this film and said Liam was doing it and I liked the script so much, that's how it kind of came about."
When asked whether they describe this movie as a thriller or an action-packed plane movie, the Oscar nominated actress surprisingly choose: "Hitchockian." But, she is actually right. "I think that obviously when you're constructing entertainment, thrillers, horror movies or anything to give us a scare; they're all based on what our natural worries are. Movies just take them and exaggerate them. If you're scared of ghosts … Is it the devil and so forth? I'm very scared of the devil, but in this case you take something that's sort of routine -- when you enter an airplane you're giving up control, all of us do and this movie plays on that fear. That is what I liked so much about this particular script and the handling of it. Our director takes rather ordinary circumstances and turns it into kind of a Hitchcockian event. 'Non-Stop' is very reminiscent of those older disaster movies I loved as a kid like, 'The Poseidon Adventure' and 'Towering Inferno.'"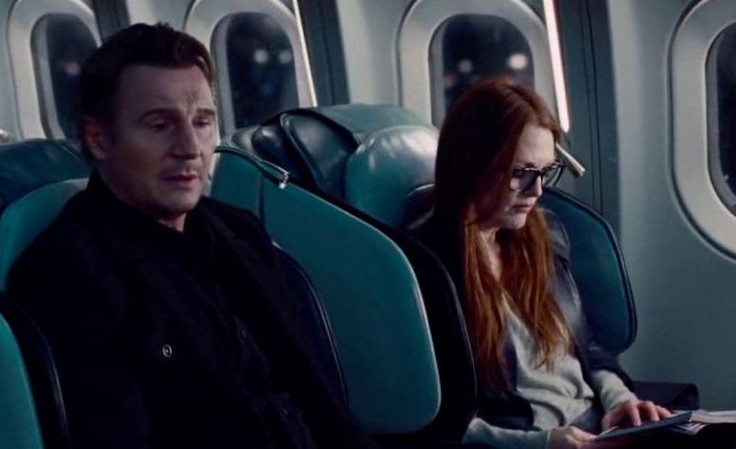 Liam Neeson who will soon star in his third movie with director Collet-Serra, touched on the post 9-11 world that obviously comes to mind when you're watching the film. "It's just that we all know the nightmares of airports these days; this movie plays upon our worst fears but it's an entertainment, you know. We've been asked by some European journalists if 'Non-Stop' is a Sep. 11 film and I let them know: 'It is not.' That being said, I don't think the film could have been made a few years ago because it would have been totally insensitive, but it is a backdrop to a thriller."
Julianne Moore and Liam Neeson have very different approaches when asked A) What would they do on a real life situation like the one portrayed on the movie. "[I would] run and scream", says Moore. "You'd like to think you would be heroic, but who knows, you know?"replies Neeson. But when asked B) How do they tackle fame and fans at the airports? Their answers couldn't be more opposite.
"I talk to them a lot, especially moms lately," answers Moore. "I just simply tell them to f**k off, and especially to young kids. You should see their mom's faces," joked Neeson as he let out a roaring laughter.
© 2023 Latin Times. All rights reserved. Do not reproduce without permission.