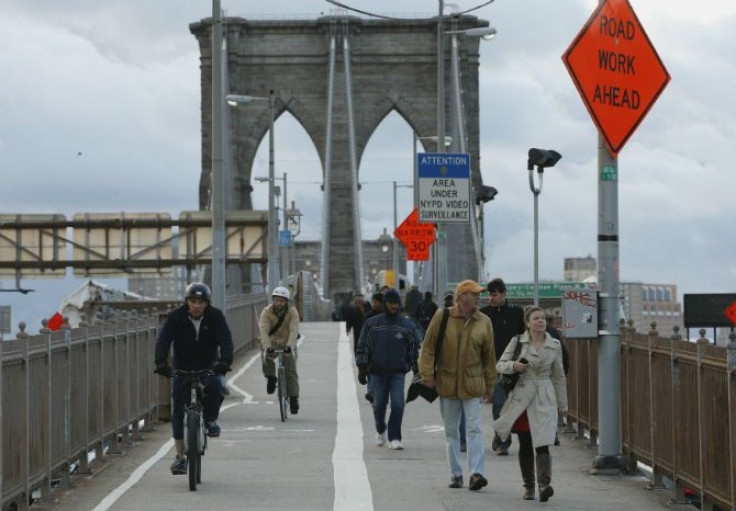 Millions of people across the U.S. Northeast stricken by massive storm Sandy will attempt to resume normal lives on Wednesday as companies, markets and airports reopen, despite grim projections of power and mass transit outages lasting several more days.
With six days to go before the November 6 elections, President Barack Obama will visit storm-ravaged areas of the New Jersey shore, where Sandy made landfall on Monday. His guide will be Republican Governor Chris Christie, a vocal backer of presidential challenger Mitt Romney who has nevertheless praised Obama and the federal response to the storm.
Sandy, which has killed 40 people in the United States, pushed inland and dumped snow in the Appalachian Mountains. Its remains slowed over Pennsylvania, and it was expected to move north toward western New York and Canada, the National Weather Service said.
Blizzard warnings and coastal flood warnings for the shores of the Great Lakes were in effect.
Battered by a record storm surge of nearly 14 feet of water, swaths of New York City remained submerged under several feet of water. In the city's borough of Staten Island, police used helicopters to pluck stranded residents from rooftops.
Across the Hudson River in Hoboken, New Jersey, members of the National Guard arrived to help residents pump floodwater from their homes, the city said on Twitter.
More than 8.2 million homes and businesses remained without electricity across several states as trees toppled by fierce winds tore down power lines.
In New Jersey, Christie said it could take seven to 10 days before power is restored statewide.
Subway tracks and commuter tunnels under New York City, which carry several million people a day, were under several feet of water.
In the lower half of Manhattan, a quarter million residents remained without power after a transformer explosion at a Con Edison substation Monday night.
"I'M ALL COLD INSIDE"
On Manhattan's Lower East Side, one of the neighborhoods without power, 87-year-old Thea Lucas said she came outside from her apartment, where she lives alone, to warm herself up with a walk and to feed seven cats that she looks after.
"I can make hot water," she said. "But there is no heating and I'm all cold inside."
In Brooklyn, a large tree fell on a house belonging to Jean-Claude Mersier, blocking the front entrance, breaking windows and crushing a car.
As he hauled away its branches, Mersier said police told him it might take two weeks to a month before someone could come to remove the biggest sections of the tree.
"The storm has not been good to us," he said.
In Greenwich Village, where downed trees littered the streets, residents gathered around a neighborhood police station to use its power outlets to charge their cell phones.
New York City likely will struggle without subways for days, authorities said. Buses were operating on a limited basis and many residents were walking long distances or scrambling to grab scarce taxi cabs on the streets.
In Hoboken, a fleet of yellow cabs could be seen submerged in water nearly as high as the vehicles' windows.
Despite much of the city's financial district being damaged by flooding, financial markets were scheduled to reopen on Wednesday as well. How much activity could take place remained to be seen, however, as many workers may be unlikely to get to work without subways and commuter railroads from the suburbs.
In New Jersey, Christie took a helicopter tour of devastation on Tuesday along the shore, where boats were adrift, boardwalks were washed away and roads were blocked by massive sand drifts. He stopped in the badly damaged resort towns of Belmar and Avalon.
"I was just here walking this place this summer, and the fact that most of it is gone is just incredible," he said at one stop.
The storm killed 22 people in New York City, among 27 total in New York state, while six died in New Jersey. Seven other states reported fatalities. One disaster modeling company said Sandy may have caused up to $15 billion in insured losses.
Sandy hit the East Coast with a week to go to the November 6 presidential election, dampening an unprecedented drive to encourage early voting and raising questions whether some polling stations will be ready to open on Election Day.
PRESIDENTIAL CAMPAIGNS TO RESUME
Obama faces political danger if the government fails to respond well, as was the case with his predecessor George W. Bush's botched handling of Hurricane Katrina in 2005.
Obama and Romney put campaigning on hold for a second day on Tuesday but Romney planned to hold rallies in the battleground state of Florida on Wednesday and Obama seemed likely to resume campaigning on Thursday.
Sandy became the biggest storm to hit the United States in generations when it crashed ashore with hurricane-force winds on Monday near the New Jersey gambling resort of Atlantic City.
Two of the area's major airports - John F. Kennedy International in New York and Newark Liberty International - planned to reopen with limited service on Wednesday.
New York's LaGuardia Airport, the third of the airports that serve the nation's busiest airspace, was flooded and remained closed.
Nearly 19,000 flights have been canceled since Sunday, according to flight tracking service FlightAware.com.
On Broadway, the Theater League announced that most shows would resume performances on Wednesday. Shows had been canceled since Sunday due to the storm.
Sandy forced New York City to postpone its traditional Halloween parade, which had been set for Wednesday night in Greenwich Village.