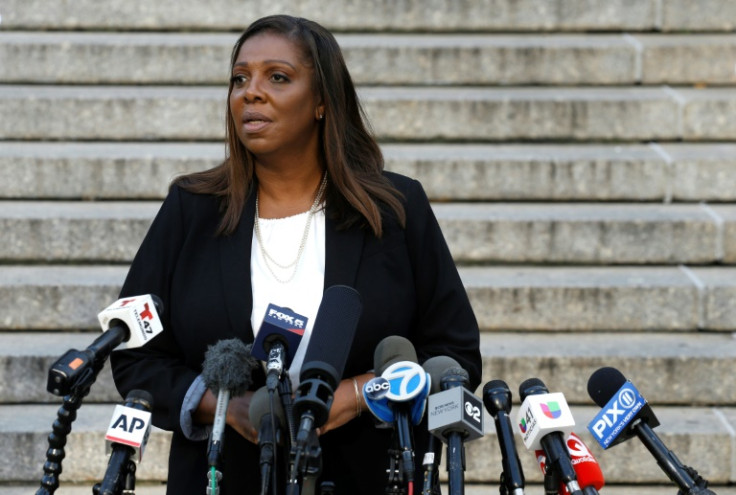 New York Attorney General Letitia James recently released a comprehensive report on racial disparities in homeownership and access to home financing across New York state. The report's findings illustrate a racial gap in all regions of the state, where White households own homes at nearly double the rate of households of color. Concretely, less than 30% of Latino households in the state owned the home they lived in.
"Unfortunately, unequal access to affordable credit is still pervasive across our state, reinforcing the legacy of segregation, leading to a disparity in homeownership, and fueling the racial wealth gap. This report makes it clear that our state must do more to provide better resources for homebuyers and strengthen housing laws to help empower more New Yorkers. My office remains committed to fighting housing discrimination in all forms, and I look forward to working with my partners in government to address this problem," reads a passage of the press release that accompanies the report.
The Findings
Albany, the capital of New York, has the second-largest gap between white and Black homeownership of any city in the U.S., second only to Minneapolis. The report found that across New York, White households were 25% more likely to own their home than Asian households, and they were twice as likely to own their home compared to Black and Latino ones.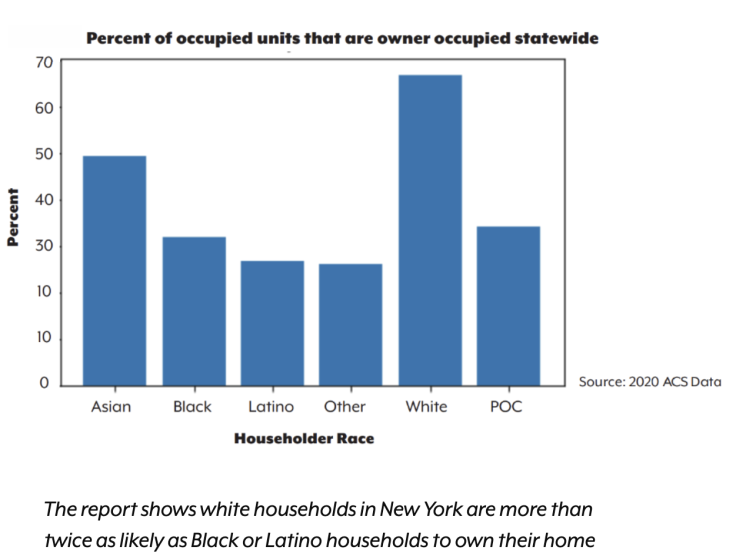 The report also detailed systemic barriers for people of color when applying for mortgages: it showed that they were rejected at higher rates than Whites regardless of credit score, income, size of the loan, among other factors. Even non-white people with the highest credit scores were denied mortgages at nearly double the rate of white applicant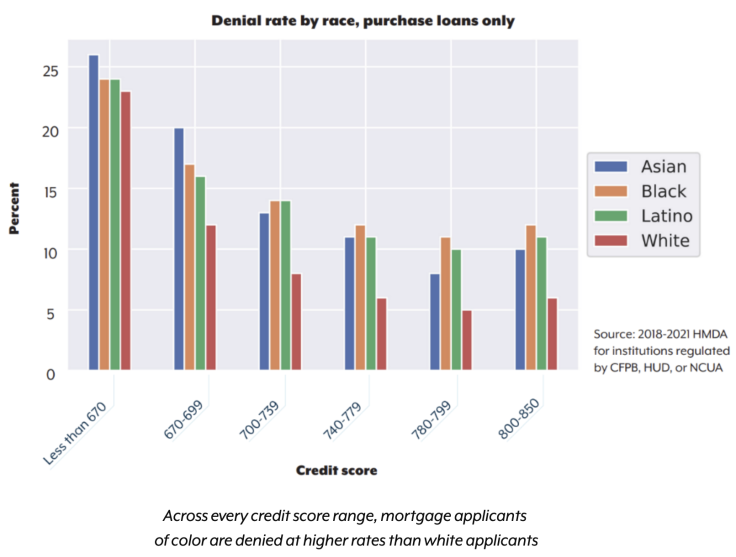 In addition to higher rejection rates, the report found that Black and Latino borrowers face higher costs when buying a home. They were found more likely to be charged higher interest rates for their loans, more likely to use costlier Federal Housing Administration loans, and less likely to be approved to refinance their loans to a lower rate. The report found that these higher interest rates, as a whole, cost Black and Latino borrowers over $200 million more in interest than white borrowers.
The report also found significant differences in fees per loan category between Asian, Black and Latino people compared to White people. For example, for a conventional loan, the amount for rates on average for white borrowers was $4,936, while for Latino borrowers the figure was $5,991. For Black borrowers it was $5,943 and for Asians it was $6,080
Attorney General James's report included state-level policy proposals aimed at helping close the homeownership gap. The proposals from the report included:
Subsidizing down payments and interest rates for first-generation home buyers — who are disproportionately people of color — to make it easier for families who have never bought a home to get credit.
Increasing state funding to nonprofit financial institutions that can better support communities of color underserved by traditional financial institutions.
Passing the New York Public Banking Act to create a regulatory framework for cities, towns, and regions to establish public banks. These institutions would help expand access to affordable financial services in underserved communities.
Increasing resources for government agencies' fair lending investigations and strengthening New York's Human Rights Law to expressly prohibit lending practices that have a disparate impact on communities of color.
Exploring options for state-provided banking services at places like libraries and post offices to help reduce the population of New Yorkers who lack adequate access to traditional banking services.
© 2023 Latin Times. All rights reserved. Do not reproduce without permission.