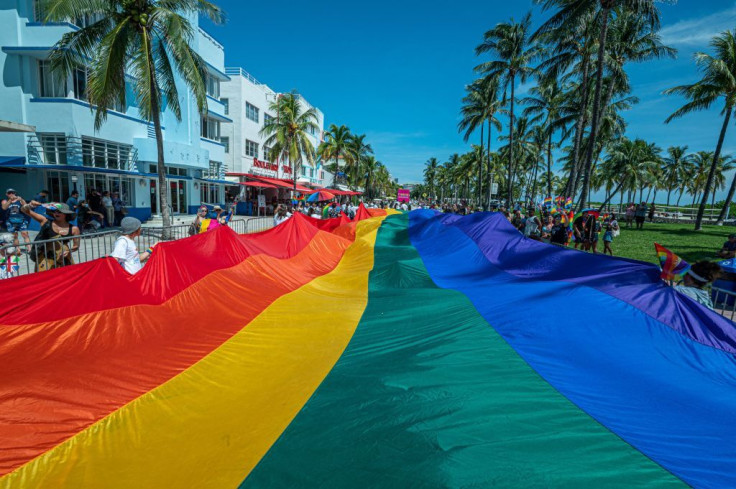 Thousands gathered on Sunday for the third edition of the Caravan March for LGBT+ Pride in Oaxaca, located in southern Mexico.
The march commenced at the Fountain of the Eight Regions of Oaxaca, a symbol of indigenous cultural diversity, and attracted a crowd of 5,000 individuals.
The event aimed to advocate for the rights and respect of individuals to freely express their gender preferences.
Participants proudly waved rainbow flags during the rally to raise visibility for the LGBT+ community in Mexico.
The march held historical significance, commemorating important milestones in the journey towards recognition and human rights for the Mexican LGBT+ community.
As the marchers passed by the monument of former Mexican President Porfirio Diaz, known as Las Aguilas, they danced in remembrance of the historic "Dance of the 41" that took place in 1901, during the repressive era in Mexican history known as "The Porfiriato."
This dance symbolizes one of the significant struggles faced by the sexual and gender diverse community in Mexico, La Prensa Latina reported.
The Caravan March for LGBT+ Pride in Oaxaca marked a significant moment in Mexican history, commemorating the "Dance of the 41."
This historical event involved the clandestine participation of 42 gay men, where half of them donned suits and the other half wore dresses.
When the authorities intervened, only 41 men were arrested, generating controversy as it was rumored that the 42nd man was related to President Diaz.
In solidarity with millions of participants across Mexico this month, the marchers engaged in the "besoton," a collective act of kissing their partners simultaneously. This gesture aimed to promote the normalization of diversity and combat discrimination and prejudice.
The march spanned over 3 kilometers and culminated at Oaxaca City's Zocalo, resonating with the excitement and enthusiasm that characterizes the LGBT+ community in Oaxaca.
The region has gained worldwide recognition for its efforts in raising visibility and awareness of the so-called third gender, making significant strides towards inclusivity and acceptance.
© 2023 Latin Times. All rights reserved. Do not reproduce without permission.