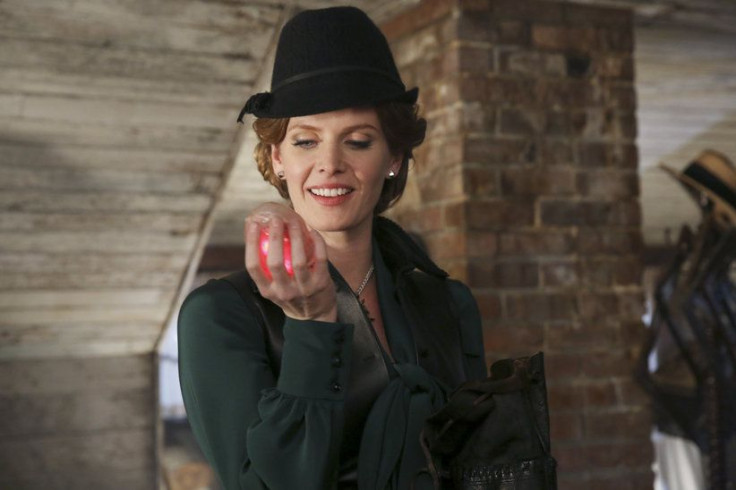 A few familiar faces will show up in the coming episode of "Once Upon a Time" on ABC. From the promo trailer episode 18 "Heart of Gold" will bring back Regina's (Lana Parrilla) true love Robin Hood (Sean Maguire) along with Rebecca Mader reprising her role as the Evil Queen's half-sister The Wicked Witch Zelena.
In the trailer we see Rumplestiltskin (Robert Carlyle) take a trip to Oz with Robin Hood back in the enchanted forest where the two will run into Zelena. We don't know why but it looks as if Hood is there to kill the Wicked Witch but she definitely won't make it easy. Then back in the real world we see Robin Hood riding horseback through the streets of New York while Mr. Gold lay in a hospital bed astounded by a surprise visitor. We can only see a small glimpse of the visitor but it could be Zelena and if it is our question is how is she still alive?! Finally we see a few scattered images of Emma (Jennifer Morrison), the charmings, Marian (Christie Laing) and a not green Zelena.
If Zelena is back from the dead our question is how? There are a few different options here. Perhaps she somehow managed to come back when Mr. Gold brought back Maleficent (Kristin Bauer van Straten). A second option is that the author (Patrick Fischler) changed her story and brought her back to life to cause trouble for our heroes. Whatever the case may be the Wicked Witch is back and even more powerful than ever.
The episode synopsis for "Heart of Gold" reads: "Gold blackmails Regina into helping him locate the Author before a determined Emma does. Meanwhile, back in fairy-tale land, Robin Hood accepts a job from Rumpelstiltskin and heads to Oz to snatch a prized potion from the Wicked Witch of the West."
"Once Upon a Time" season four episode 18 "Heart of Gold" will air Sunday April 12 at 8 p.m. ET.
© 2023 Latin Times. All rights reserved. Do not reproduce without permission.