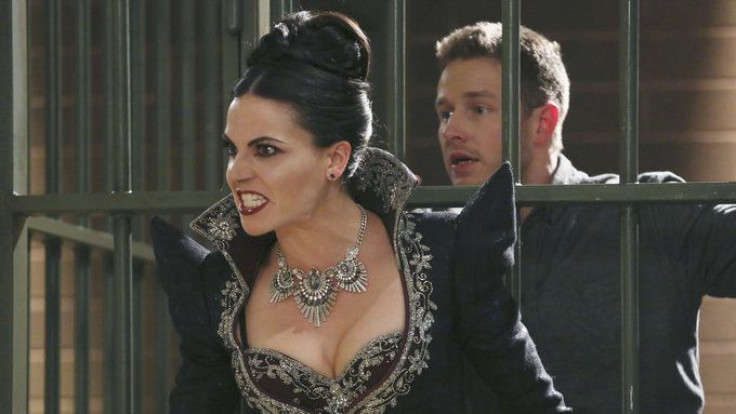 When "Once Upon a Time" returns this fall we will see an all-new evil in our savior Emma Swan (Jennifer Morrison). If you recall in the season four finale, "Operation Mongoose," Emma took in all of Gold's (Robert Carlyle) darkness to save her friends leaving her as the new dark one. With our good guy now officially our bad guy who will stop her?
In a recent interview with BuddyTV Lana Parrilla, who plays the Evil Queen Regina, revealed "I think Regina's going to become the savior this year and the hero." It wouldn't be a surprise to see Regina step into the role of savior as she has slowly but surely been changing her ways. She also mentions that Regina will be worried for Emma as she knows what it is like to walk down the path of darkness.
Furthermore, Parrilla talks about Henry (Jared Gilmore) being the author and reveals his storyline may be delayed as the hero team needs a new magical quill. Parrilla talks more about Emma, Henry and even Zelena (Rebecca Mader) in the interview below. Check it out along with these other 13 juicy details about season five of "Once Upon a Time."
1. According to TVLine familiar faces from Camelot lore will make an appearance in "Once Upon a Time" season five. ABC is also planning to introduce Merlin, King Arthur and Guinevere. Check out the casting details for each character below:
For Merlin, Once is seeking a black Brit in his early 30s to early 40s and boasting a natural British accent to play "a man with great wisdom and intelligence beyond his years," someone who has always put duty in front of his own desires, even at great personal cost.
Arthur is described as a "good and just ruler" who, beneath the surface, "is a master manipulator who can carry a grudge to the grave, and maybe beyond." He harbors an "eternal burning love" for Guinevere that can lean toward being a bit… controlling. For this role, Once aims to cast a gent in his mid-30s to early 40s, and again a British accent is mandatory.
The casting call for Guinevere, meanwhile, seeks a Latina in her mid-20s to mid-30s to play a "headstrong queen" who fell in love with her husband's most trusted knight, the dashing Lancelot — previously played on Once by "Teen Wolf's" Sinqua Walls, but (supposedly) dead in the current timeline. She now must balance her own happiness with the well-being of Camelot.
2. Zap2it spoke to the shows creators Edward Kitsis and Adam Horowitz who revealed Emma may be dark for most of the coming season. When asked to describe season five in one word, Kitsis replied "Swan." Though extremely vague, the one word suggest that bringing Emma back from the dark will be the central theme of "OUAT."
3. The writers for "Once Upon a Time" are currently taking a well deserved break, but according to Horowitz the theme for season five has already been talked about.
"We start with a theme we want to explore and go from there," he says. "We've done our mini-camp. We actually have the next month so we like to sit for the next month and ask 'Does it still hold true?'"
4. Don't expect to meet Merlin right away as there is a quest to find powerful sorcerer. The season will detail the characters' quest for Merlin in order to free Emma from the powers of an ancient darkness and to defeat it once and for all before it destroys everything.
5. Rumplestiltskin is still alive but for how long is up for debate. In the season four finale "Operation Mongoose, Part 2" the darkness was pulled from Rumple and he was left in a critical state and put in a kind of stasis with his condition unknown. On the bright side Carlyle is still on the casting list for season five so we know Rumple will be in the series in some sort of capacity.
6. Looks like the Wicked Witch and Robin Hood will be sticking around for some time. Rebecca Mader and Sean Maguire have been promoted to series regulars for season five of "Once Upon a Time" Entertainment Weekly reports.
7. We have found our King Arthur for season five of "OUAT." It was revealed early last month that Liam Garrigan ("24: Live Another Day") will play Arthur reports EW. "Once Upon a Time" will put their own unique spin on Arthur's story and his relationship with the still unannounced Guinevere and Lancelot.
8. It has been confirmed that Rebecca Mader's character, Zelena the Wicked Witch, will give birth in season five. This means there will be a new baby witch in town and again Regina (Lana Parrilla) will be a stepmother.
9. Michael Socha has been demoted to recurring cast member. If you recall the Knave was brought to Storybrooke when "Once Upon a Time In Wonderland" ended as a series regular but it looks like his role will be less than when "OUAT" returns this fall.
10. Two "OUAT" promo trailers were shown at San Diego Comic-Con. In the videos we get our first look at Dark Emma in action and are introduced to Merida from Disney's "Brave." Check out the trailers below:
11. Amy Manson, who plays Merida, shared a pic of herself on the set of "OUAT." The actress was cast as the "Brave" princess but turns out Manson has some catching up to do. She posted to Twitter showing off a selfie of herself with season two of "Once Upon a Time" with a caption that reads: "Oooooo...Watching series 2 on lunch break from filming ;) #OUAT #merida." Check out the tweet below:
12. Colin O'Donoghue who plays the lovable Captain Hook on "Once Upon a Time" recently spoke with IGN and revealed some interesting details about what his character will be doing in season five and also shed some light on Hook and Dark Emma's relationship.
It's a short clip but O'Donoghue starts off by talking about how Hook desperately wanted to keep Emma from falling into the darkness in season four and now that she is there he will do anything to get the woman he loves back. He also compared the way Belle (Emilie de Ravin) sees Rumple (Robert Carlyle) is the same way Hook sees Emma so he'll never give up on her. Check out all the details in the interview below:
13. The release date has been set. Mark your calendars for Sunday, Sept. 27 at 8 p.m. on ABC as that's when "OUAT" will return.
© 2023 Latin Times. All rights reserved. Do not reproduce without permission.