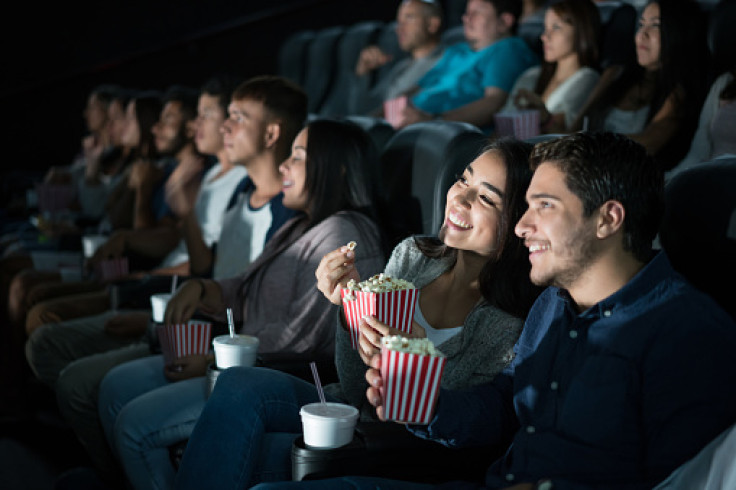 When the new film "Flamin' Hot" is released on streaming platforms this Friday, audiences can expect something uncommon.
This movie breaks the mold by placing a Latino character, Richard Montañez, portrayed by Jesse Garcia, in the forefront.
While this may not initially appear as a groundbreaking act, only 4% of the most popular 1,600 movies from 2007 to 2022 featured a Latino in the lead role.
"Flamin' Hot" goes beyond defying expectations on the screen. Behind the scenes, this film about snack foods challenges other norms.
Out of the 1,600 highest-grossing films in the past 16 years, only one in every 320 had a Latina director.
Furthermore, only one film was directed by a Mexican American woman. In simpler terms, you are more likely to encounter a person struck by lightning or be born on Feb. 29th than to witness a top-grossing film led by someone like Eva Longoria – yes, the multi-talented actor-producer-director Eva Longoria – at the helm.
It's not just limited to the director either. Merely 3% of casting directors in the highest-grossing films are Latinos. From the leading roles to the final credits, the makeup of the cast and crew for "Flamin' Hot" is an exceptional deviation from the norm.
Despite the rich history and significant cultural influence of the Latino community in this country, their presence and contributions are often overlooked in movies. "Flamin' Hot" directly addresses the underrepresentation of Latinos in the film industry and the persisting stereotypes they encounter.
The film places businessman Montañez at the forefront of the narrative, surrounded by his Latino family and friends. Our research reveals that 50% of Latino main characters are portrayed in isolation on screen, making this film an important portrayal of Latino families and community life.
Additionally, the movie highlights essential aspects of Latino culture, such as food, faith, clothing, and relationships, which are frequently absent in popular films, the Los Angeles Times reported.
In Hollywood, stories about Latinos often portray them as outsiders, individuals who were not born in this country and are excluded from shaping American values.
Despite the fact that the majority of the U.S. Hispanic/Latino population is born in the United States, only around one-third of the Hispanic/Latino characters we examined in 2019 were portrayed as U.S.-born Latinos.
"Flamin' Hot" dismisses such misconceptions by presenting Latinos at the heart of the story as fully American and fully Mexican. These characters demonstrate an advantage that is often overlooked.
Just as "Flamin' Hot" Cheetos revealed the influential role of the Latino market in driving consumer behavior, even beyond the community, this film can also serve as a catalyst for change in Hollywood. Firstly, there is a pressing need for more Latino stories to be brought to the screen.
These stories exist and are waiting to be shared. Similarly, talent is abundant. The individuals behind "Flamin' Hot" represent a much larger community of talented Latinos who are ready to be hired for stories that prominently feature Latinos.
Ariana Case is the program manager and Katherine Pieper is the program director of the USC Annenberg Inclusion Initiative, founded by Stacy L. Smith, a professor at the Annenberg School for Communication and the USC School of Dramatic Arts.
The rest of the industry also holds responsibility for driving change. Talent agencies should actively recruit and represent more Latino talent, advocating for their clients to be featured in a broader range of stories.
Casting directors should commit to casting processes that guarantee a higher number of auditions and roles for Latino actors.
Film festivals, nonprofits, and philanthropists can contribute by allocating funding and establishing initiatives to support and accelerate the work of Latino filmmakers.
Even corporations outside the entertainment industry can make a difference by ensuring their marketing and promotional efforts actively support Latinos.
For instance, McDonald's introduced the Spotlight Dorado program, which provides funding and mentorship opportunities for Latino filmmakers. As "Flamin' Hot" powerfully illustrates, corporations that overlook Latinos do so at their own peril.
The entertainment industry should take lessons from this film and persistently cater to the Latino community by presenting stories that genuinely reflect their experiences, narrated by storytellers who personally identify as Latino.
As demonstrated by this groundbreaking movie, the potential for creating "Flamin' Hot" products knows no bounds, and likewise, there should be no restrictions on the number of Latino stories that can be told.
© 2023 Latin Times. All rights reserved. Do not reproduce without permission.