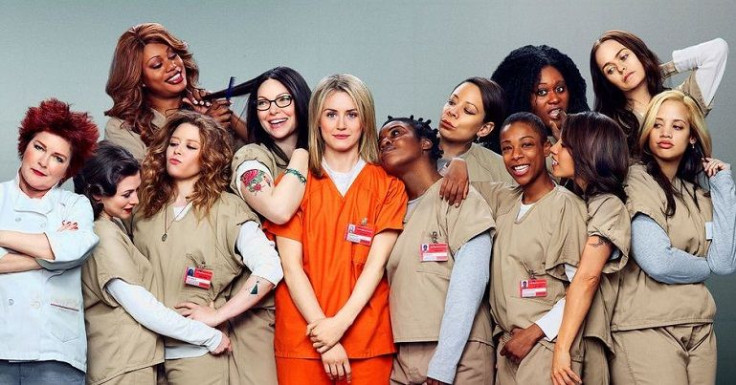 In season three of "Orange is the New Black" fans were surprised by the reveal of a possible relationship between Red (Kate Mulgrew) and Healy (Michael Harney). This article contains spoilers, continue reading at your own risk.
We see the prison counselor and the inmate bond early in the season and since then Red stays on Healy's mind. His life is a mess at home and he can't connect with his wife, which makes his relationship with red even more intimate. By the time we get to the season three finale, "Trust No Bitch," Healy is ready to move on and really wants to make it work with Red.
During Morello's (Yael Stone) wedding Red and Healy exchange some meaningful glances and share a rather weird conversation. "You're not going to be in prison forever," Healy tells her. Red looks on sadly: "Our ships passed too late in the night for one of them to change course now," she tells him. The flirting and relationship kind of end there but fans are hopeful that the two will take their relationship further.
Mulgrew gave some insight on the relationship in her celebrity blog for Entertainment Weekly stating that what started as manipulation quickly turned into something real.
"We feel that she and Healy have an "understanding,"" writes Mulgrew. "They are far from enemies but neither are they bosom buddies, although she has animatedly and openly defended his virtues, to the chagrin of his petulant and self-consumed "mail order bride." Red has established her willingness to fight for what is decent and, in her mind, unimpeachable. But then our throats tighten as we watch her snuggling up to Healy over a tea tray and we blink in a kind-of disbelief as we begin to form the (by now) uncomfortably clear impression that she is flirting with Healy, and that she is using all of her albeit rusty wiles to seduce him."
It will be interesting to see if Red and Healy's relationship evolves in season four of "OITNB." Until then check out these six other juicy details below:
1. Will Bennett return? - Fans have been speculating John Bennet (Matt McGorry) will not return in season four of "OITNB." The prison guard was noticably absent in the last season of the Netflix series and recently spoke with Vulture about the role of Bennet:
"The flashback is analogous to what ends up actually happening with Bennett and Daya," said McGorry. "Here he is, he's in battle, he's talking a big game, but when it comes down to it, the other lower-ranked guy jumps on the grenade as Bennett goes and runs. I think it's sort of who Bennett is: He wants to be the hero so bad, and he tries but falls short. It's pretty tragic, but there is some part of me that thinks Bennett believes he was doing the better thing by leaving. It allows Pornstache's mother to step in, it allows other things to shift. I mean, if you think of it, that relationship has been a ticking time bomb since the beginning."
Furthermore, the actor remained vague about his characters future in an interview with Yahoo. He said ultimately Bennett's return is up to the writers of the show.
"The thing that I can say about Season 4 is that it's the writers' decision about whether or not Bennett is back… I have my fingers crossed that he comes through and is the man that we all hoped he was," said McGorry. "But I wouldn't be surprised to find out that wasn't the case. Like me, I guess you'll just have to wait and see."
2. New cast - Recently, the studio has announced that they're in the process of casting for new inmates in New York City, and they're particularly looking for Dominican type females to join the show's cast. This more than likely has to do with the ending of the third season which showed more prisoners will be coming to Litchfield.
3. More casting details - The casting call included a requirement that candidates must not have worked on the show previously, and should be comfortable with having "natural hair only, no wigs, waves, extensions, dreads, twists and no unnatural colors". This makes it pretty clear that they're looking for a typical inmate role, but the casting call doesn't specify how many positions they are looking to fill.
The only small hint we got from that was the fact that all those characters will be completely new to the show and we won't have seen them before, so the producers are definitely looking to spice things up a little bit.
4. Character promotions - Lea DeLaria has recently been made a regular cast member for the new season. She plays the role of Carrie "Big Boo" Black, and was recently just a recurring member, but it looks like fans are going to see her more regularly on the screen. Along with her, Jackie Cruz has been given a similar promotion, so her character Marisol "Flaca" Gonzales is also going to get more prominent exposure in the future episodes.
5. Alex is alive! Maybe? - Christian Today notes that Alex (Laura Prepon) might still be alive even if season three made it look like she was already dead.
Furthermore, Prepon recently shared a photo on her Instagram where she held up an identification card for a correctional wherein she is seen wearing an orange jumpsuit. She captioned the image, "excited to get out there and make an awesome season."
6. Release Date - April 15, 2015, Netflix announced early renewal of Orange is the New Black for a fourth season. Season 4 of "OITNB" is slated to be released sometime in 2016. Netflix is yet to schedule the exact release date but based on previous seasons the fourth season should arrive June 2016.
© 2023 Latin Times. All rights reserved. Do not reproduce without permission.