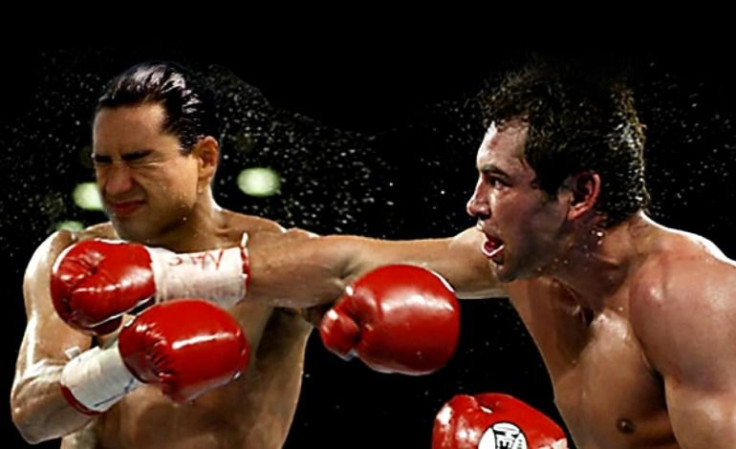 Did he just c ome out of retirement for a comeback? Oscar de la Hoya is about to hit the boxing ring in a highly anticipated fight against host and actor Mario Lopez.
Although we are not hating the idea of catching The Golden Boy back in the scene, his match against the Mexican-American host is in support of an upcoming charity event. Which means that after he or Lopez win, he will just go back to living his normal life as a retired athlete.
Despite the boxing match being all fun and games, the 43-year-old former professional boxer used social media to intimidate and confront Lopez before their big fight. "The only thing saving @mariolopezextrais the bell!," de la Hoya sarcastically stated, referring to the '90s show "Saved by the Bell," where he starred as A.C. Slater.
Lopez, on the other hand, did not bash his opponent, and in fact seemed a bit worried with the post. "My boy says he's landing these right hands on me all night. Damn, I thought we were homies!" he wrote on Instagram. For the record, Lopez is a huge boxing fan and has some mean boxing skills himself.
The big fight, which is expected to take place Saturday, June 11 at Rail Event Center in Utah, is in support of Charity Vision, a nonprofit organization empowering physicians in the developing world and creating sustainable solutions to the worldwide blindness epidemic.
The organization's official website elaborates the following: "CharityVision has been fighting blindness throughout the world since 1986. Ours is a unique humanitarian model that not only serves the poor, but also helps develop local medical capacity. 100% of all donations go to fight blindness. Every $1 donated turns into over $100 in medical services."
When, Where to watch Oscar de la Hoya vs. Mario Lopez
Date: Saturday, June 11
Time: 6:30 p.m.
Live stream: RingTV Live
© 2023 Latin Times. All rights reserved. Do not reproduce without permission.