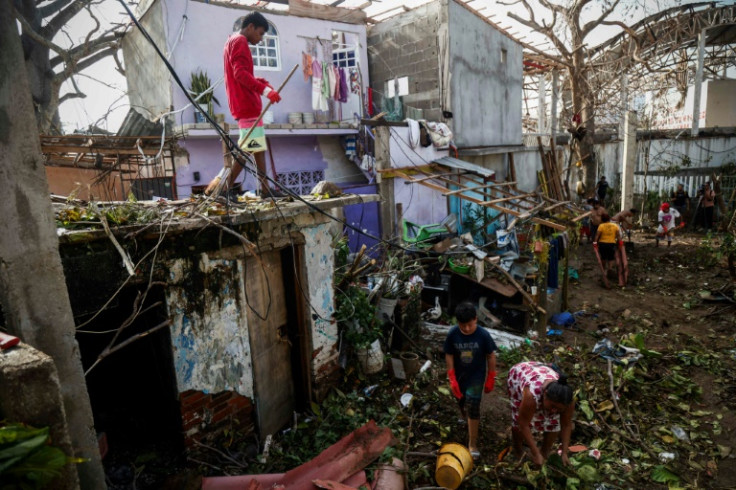 Acapulco was struggling Sunday to recover from the extraordinarily powerful Hurricane Otis, which claimed 48 lives across southern Mexico and provoked widespread power outages and criticism of the government response.
"We are going to fight for ourselves," Margarita Carmona told AFP after chopping up fallen trees along with her son-in-law and other residents in the Puerto Marques neighborhood.
They, like many in this port city and tourist haunt of 780,000, grew tired of waiting for government aid, which only began being distributed Saturday -- days after Category 5 Otis roared ashore and left local landmarks built over decades look like they had been bombed out.
After the hurricane hit Wednesday, a feeling of abandonment flooded the residents, including Julian Matadama, a 52-year-old construction worker, who banded together with other locals to clear debris.
"We are in need of help," he said.
But after widespread water, power and telecommunications outages, they face a tough road ahead.
"There is no way for you to feed yourself, there is no way to drink water," added a fisherman, standing next to him.
Though the city is far from its tourism heyday in the 1950s and '60s, when it attracted Hollywood stars and jet setters, its beaches still attract visitors -- or at least they did before Otis.
Omar Flores' small family restaurant is miraculously still standing, though it has lost its roof and the kitchen is devastated.
Now he fears it will be months before visitors return to the port.
"It's going to be another hard blow for all the people who work on the beach," he says. "Just thinking about how much money is needed to get back on your feet, where do we get it from?"
Otis isn't the first setback for Acapulco.
In 1997, the region was hit by Hurricane Paulina, a Category 4 storm that killed more than 200. Acapulco managed to recover, only for worsening drug violence to later drive away high-income tourism.
But with heavy investment, and sporting events like the tennis Mexican Open, the city was once again on the rise in recent years. In February, the government announced a hotel occupancy rate of 75 percent.
Now, beaches are littered with debris and dead animals.
The hurricane's death toll climbed Sunday as five more people were confirmed dead in Coyuca de Benitez, north of the city.
Some 36 people were still missing, authorities said at midday.
The count of victims has been slow after the storm collapsed telecommunications systems, which have been gradually returning over the weekend.
The World Meteorological Organization has described the hurricane as "one of the most rapidly intensifying tropical cyclones on record," exceeded in modern times only by another Pacific hurricane, Patricia, in 2015.
The speed with which Otis intensified took the government and weather forecasters by surprise, leaving little time to issue warnings and prepare residents for its arrival.
As aid finally began to arrive over the weekend -- spurred by an air bridge established by the army and navy -- initial estimates put the storm's damage at around $15 billion.
A security force of some 17,000 was deployed across the area after reports that supermarkets had been looted.
Some 273,000 homes, 600 hotels and 120 hospitals were damaged, with a number of restaurants and businesses in ruins, the government said.
Boats are lost or capsized at sea, and residents face an uncertain future.
"We don't know what's going to happen," says clothing seller Juana Flores.
© 2023 Latin Times. All rights reserved. Do not reproduce without permission.