The suicide bomber who attacked a mosque within a police facility in Peshawar and killed over 80 people was a Pakistani Taliban member disguised as a police officer.
According to Moazzam Jah Ansari, police chief of Pakistan's Khyber Pakhtunkhwa province, CCTV evidence shows the suspected bomber arriving at a police checkpoint on a scooter on Monday, asking a policeman for directions to the mosque, and being let through since he was in uniform.
The death toll had originally been reported as being higher than 100, but Ansari said that some bodies had been double-counted. Additionally, 217 people were injured by the explosion. The change occurs a day after Peshawar police detained several suspects. Police suspect that 12 kilograms (26.5 pounds) of explosives were used by a suicide bomber.
"This was a suicide bomber and we have traced his movement. He was in a police uniform." "We are closing in on the network. Every life of our martyrs will be avenged," Ansari said, reports CNN.
The walls of the mosque were demolished, along with its glass windows and paneling. This is seen in the video footage. The blast shocked residents in Peshawar - once known as "the city of flowers." Emergency workers looked under the wreckage for survivors, but officials said that the majority of persons found there had already died.
The explosion on Monday brought attention to the deteriorating security situation in Peshawar, the capital of the restive Khyber-Pakhtunkhwa province that borders Afghanistan, and a regular target of strikes by the Pakistani Taliban, also known as Tehreek-e-Taliban (TTP).
The TTP has sent out conflicting messages about whether it was responsible for the attack. The bomb was "revenge," according to TTP officials Sarbakaf Mohmand and Omar Mukaram Khurasani, for the death of TTP militant Khalid Khorasani the previous year. TTP's main spokesperson, Muhammad Khorasani, later denied the group was involved.
The incident occurs while Pakistan is going through a difficult time economically. The country is also struggling with a cost of living crisis, which has been made worse by devastating floods last year.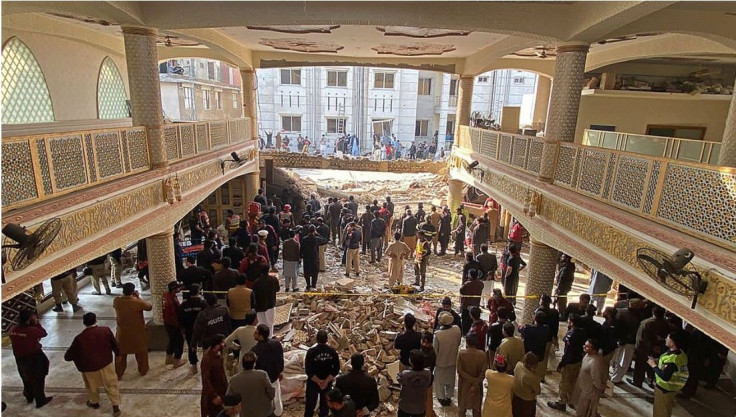 © 2023 Latin Times. All rights reserved. Do not reproduce without permission.