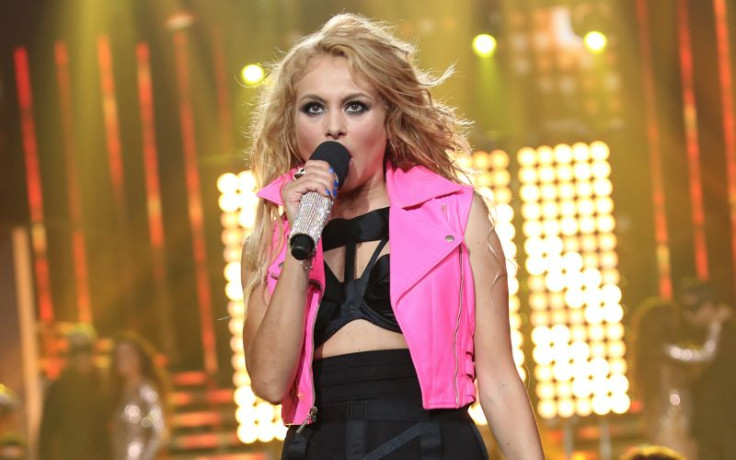 Paulina Rubio smashed it this weekend with her "Mi Nuevo Vicio" performance during the "Nuestra Belleza Latina" Season 9 finale on Univision! The 43-year-old singer uploaded a very cryptic video to Facebook yesterday that only made her fans feel uneasy. "Excited because my first love is coming back to intensify my life," she wrote on social media. "I've been dying to tell you." Rubio uploaded a video where she talks directly to her fans but did not say what she was talking about. Rumor has it that "La Chica Dorada" is expecting a baby and giving her son Andrea Nicolás a little brother or sister soon.
Alan Tacher, host of "Despierta América," fueled the rumor mill that a pregnancy could be a possibility. The morning show personality said that Paulina told him that she "would have a little surprise very soon," as she rubbed his wife's belly. Tacher also said that Rubio called her boyfriend Gerardo Bazúa, her husband. Could it be true? Could Paulina be pregnant again? She talks about her first love coming back, how could that be? A baby doesn't come back. Fans have pointed out that the Mexican singer is most likely teasing a new campaign for the beauty line she represents.
"I am very happy and I wanted to tell you because you are my greatest support," she says in the video. "My life has made an unexpected turn. Truthfully this surprised me, I don't know, it's like if a love from the past returned full of force, light and happiness. I feel like a big explosion inside, in my chest, in my heart. I'm euphoric and it's lighting up the strongest tie that I wanted to tell you." So far, Paulina Rubio has not clarified the video and allowed the rumor mill to spin and spin. Her former husband Nicolás Vallejo Nájera "Colate" said he would "send my congratulations, flowers and the best wishes" if the rumor turns out to be true. Watch the video down below and tell us what you think!
Feliz porque mi primer amor regresa a intensificar mi vida. ¡Muero por contarles!Excited because my first love is coming back to intensify my life. I've Been Dying to Tell You!

Posted by Paulina Rubio on Tuesday, 14 April 2015
© 2023 Latin Times. All rights reserved. Do not reproduce without permission.