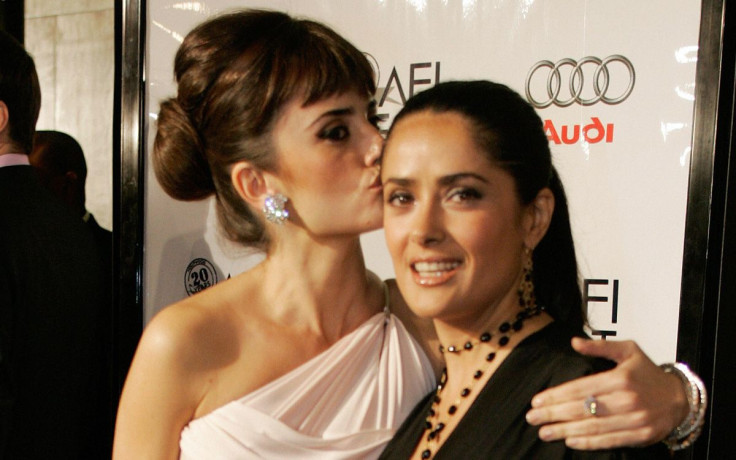 Salma Hayek made a bold move this week by exposing the hell she lived through while working with Harvey Weinstein on the production of "Frida." Now, her longtime friend Penélope Cruz is her commending her and showing her support. "I love you, my beautiful friend," the Spanish actress wrote on Instagram with an excerpt from the op-ed Hayek wrote. Cruz also shared a pic of her buddy portraying Frida Kahlo.
In her editorial with the New York Times, Hayek expressed how she thought she had gotten past the situation, but in reality she had not. "I had brainwashed myself into thinking that it was over and that I had survived; I hid from the responsibility to speak out with the excuse that enough people were already involved in shining a light on my monster. I didn't consider my voice important, nor did I think it would make a difference," Salma wrote."I am inspired by those who had the courage to speak out, especially in a society that elected a president who has been accused of sexual harassment and assault by more than a dozen women and whom we have all heard make a statement about how a man in power can do anything he wants to women."
"In my naïveté, I thought my dream had come true. He had validated the last 14 years of my life. He had taken a chance on me — a nobody. He had said yes. Little did I know it would become my turn to say no," she wrote. "No to opening the door to him at all hours of the night, hotel after hotel, location after location, where he would show up unexpectedly, including one location where I was doing a movie he wasn't even involved with. No to me taking a shower with him."
"No to letting him watch me take a shower. No to letting him give me a massage. No to letting a naked friend of his give me a massage. No to letting him give me oral sex. No to me getting naked with another woman. No, no, no, no, no … And with every refusal came Harvey's Machiavellian rage," she continued.
Salma also revealed that she received a death threat from the movie mogul. "I will kill you, don't think I can't," she said. "In his eyes, I was not an artist. I wasn't even a person. I was a thing: not a nobody, but a body."
"Halfway through shooting, Harvey turned up on set and complained about Frida's 'unibrow.' He insisted that I eliminate the limp and berated my performance. Then he asked everyone in the room to step out except for me. He told me that the only thing I had going for me was my sex appeal and that there was none of that in this movie. So he told me he was going to shut down the film because no one would want to see me in that role."
Harvey Weinstein denies the allegations against him from Hayek. "Mr. Weinstein does not recall pressuring Salma to do a gratuitous sex scene with a female costar and he was not there for the filming," said the spokesperson in a statement to Us Weekly. "However, that was part of the story, as Frida Kahlo was bisexual and the more significant sex scene in the movie was choreographed by Ms. Hayek with Geoffrey Rush. All of the sexual allegations as portrayed by Salma are not accurate and others who have witnessed the event have a different account of what transpired."
© 2023 Latin Times. All rights reserved. Do not reproduce without permission.