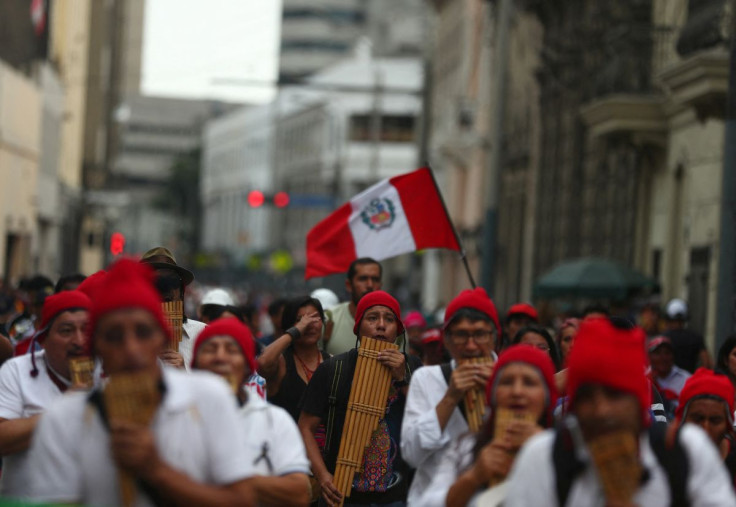 As anti-government demonstrations continue in Peru, Indigenous revolt against President Dina Boluarte is being prepared in a secret safe house.
A dingy stairwell leads to a safe house on the second floor of a building in an industrial corridor of Peru's capital Lima. In the safe house, one can find dozens of Quechua and Aymara activists resting up for more anti-government demonstrations as they cook a breakfast of donated pasta, rice and vegetables.
Marcelo Fonseca, 46, is among the makeshift refuge's occupants, reported the Associated Press. He had watched a friend being shot and killed in December 2022 when they fought security forces in Juliaca. Within hours, Fonseca joined demonstrators that descended on Lima to demand Boluarte's resignation. Fonseca said that their Andean blood burns when they become furious and that it "runs faster. That's what brings us here."
It's been two months since Peru's insurrection started. The unrest has hardly disturbed the late-night revelry in Lima's beachside enclaves, but roadblocks still rage across the countryside. This has scared away foreign tourists and led to shortages of gas and other staples. The protests, which have left at least 60 people dead, were triggered in December by President Pedro Castillo's impeachment. The rural teacher was a symbol of their own exclusion from the people of Peru like Fonseca.
As for Boluarte's ascension to power from the vice presidency in cahoots with Castillo's enemies in Congress, it is seen as a class betrayal that's unforgivable. The impasse has given self-confidence to the Indigenous movement in Peru. Peruvians of all backgrounds take pride in the Inca Empire's history, but the country's Indigenous population is often treated with neglect and sometimes hostility.
Not much is done to promote Quechua. The disdain is attributed to systemic racism stretching back to the Spanish conquest, according to Tarcila Rivera, a Quechua activist and former adviser to the United Nations on Indigenous issues. She said that despite the two hundred years since the founding of their republic, the reality is that "those of us who come from pre-Hispanic civilizations haven't obtained our rights, nor are those rights taken into account."
The current crisis in Peru has also led to racism. One lawmaker from the floor of Congress disparaged the rainbow-colored Wiphala flag, as little more than a "chifa tablecloth." It represents the native people of the Andes, reported the Washington Post.
The use of the internet and smartphones during the last few decades of economic stability has made Indigenous Peruvians more aware of their rights. They know about the country's inequalities and the sacrifices of previously unheralded Indigenous heroes.
The ongoing protest movement is centered in the southern Andes. The Indigenous identity is strongest there.
Last month, protesters clambered up to the improvised podium they had built atop a 6-foot earth barricade, to declare their determination to topple Peru's President, reported The Guardian.
One of the speakers, Aparicio Meléndez, urged the crowd in the Andean town of Sicuani to ignore reports that army soldiers were en route to extinguish their demonstration.
© 2023 Latin Times. All rights reserved. Do not reproduce without permission.