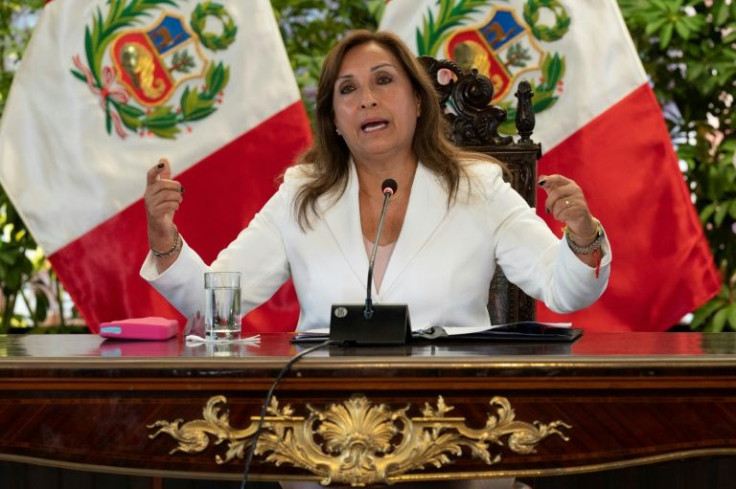 Peruvian President Dina Boluarte declared a state of emergency in three districts of the country in order to fight against crime.
The announcement was made Monday, revealing that the emergency has been applied in two districts located in the capital of Peru - San Juan de Lurigancho and San Martín de Porres. The third district is the Piura locality of Sullana, as per Reuters.
As per the declaration, the Armed Forces and the National Police will work together in these three districts to fight against organized crime "within the legal framework that both institutions have."
Peru's Prime Minister Alberto Otárola Peñaranda shared that the emergency will take effect from Tuesday onwards, adding that it will suspend all civil rights, including "inviolability of the home."
According to the prime minister, this emergency will allow "the control of internal order by the National Police with the strategic support and critical assets in charge of the Armed Forces."
"An immediate and emergency presence of the forces of law and order is necessary in these localities, we are talking about San Juan de Lurigancho, San Martín de Porres (in Lima) and Sullana in Piura," he added.
While the president is currently in New York City to attend the 78th United Nations General Assembly, she was virtually present during the announcement of the emergency. The official X handle, formerly known as Twitter, of the presidency shared a photo featuring the virtual presence of the president alongside other officials.
"From New York, President Dina Boluarte announced that the Council of Ministers declared an emergency in the districts of San Juan de Lurigancho and San Martín de Porres, in Lima, as well as Sullana, in Piura, to firmly and decisively confront criminality," it wrote in Spanish (translated by Google).
The crime rate in the capital of the country rose to 160,200 cases in 2022, while in 2021 there were 120,350 cases reported. One such recent case included at least 15 people being injured following the throwing of a war grenade into a nightclub.
Aside from this, there are several different types of crimes reported in the country, including murder, corruption, and the illegal drug trade.
The official United States website issued an advisory in June in the wake of crime, civil unrest, and the possibility of kidnapping in Peru and urged citizens not to travel to several regions of Peru, including Loreto and Puno.
© 2023 Latin Times. All rights reserved. Do not reproduce without permission.