President of Peru, Pedro Castillo, has accused his opponents of undermining democracy as he gets ready to face the third attempt at the impeachment of his troubled presidency, Al Jazeera reported.
After beginning his five-year term in July 2021, Castillo is anticipated to appear in impeachment hearings beginning on Dec. 7, to address allegations of "moral incapacity." Last week, Peru's Congress issued a summons for the sitting president.
Castillo denied the accusations of corruption in a speech on Dec. 6, as he prepared for a congressional vote that might result in his impeachment.
He has previously avoided being impeached twice. The most recent outcomes stem from a constitutional complaint made by the prosecutor's office in October, which claimed that Castillo was the head of a "criminal organization" that profited from public contracts and impeded investigations.
Congress has also accused Castillo of incompetency. He has appointed five cabinets and at least 80 ministers during his tenure.
Castillo's incident occurs in a broader context of political unrest in Peru, where seven presidents and four former leaders have been arrested or sought after since 2011 on corruption-related accusations.
While the president of Peru is often exempt from criminal prosecution, a constitutional complaint enables Congress to conduct its own trial.
A proposal to start the impeachment procedure was approved by Peru's 130-member legislature on Dec. 1, with 73 votes, many of them coming from right-wing groups.
But removing a president from office requires a two-thirds majority, or 87 votes, which is a higher bar. Earlier attempts to impeach the president in December 2021 and March 2022 fell short of that requirement.
Six corruption-related investigations are pending against Castillo and his family members. The president has denied any wrongdoing.
Peruvian politics have always been marked by political unrest, yet the country's economy has expanded more quickly than any other significant economy in South America.
However, Colombia is expected to overtake Peru this year, partly because of the country's uncertain political landscape, said reports.
According to the Reuters news agency, Castillo's administration has spent comparatively less on social programs, and Congress has shelved a plan to raise taxes on the nation's mining sector.
It is unknown whether Castillo's impeachment would have any impact on the economy.
Castillo has called for dialogue and reiterated that he is "not corrupt."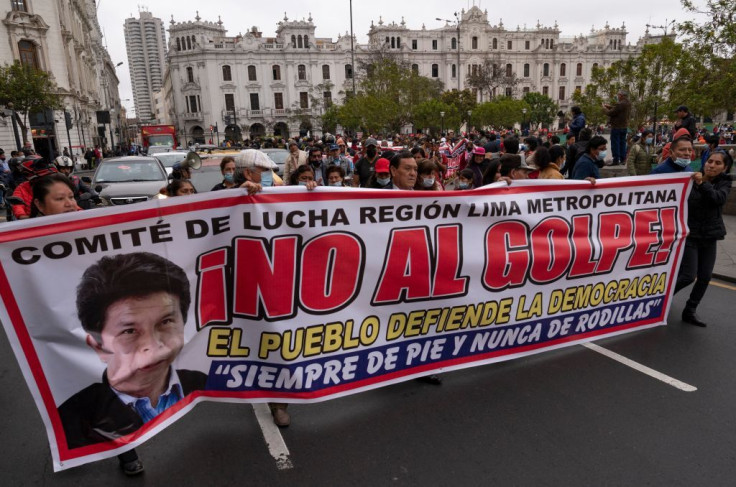 © 2023 Latin Times. All rights reserved. Do not reproduce without permission.