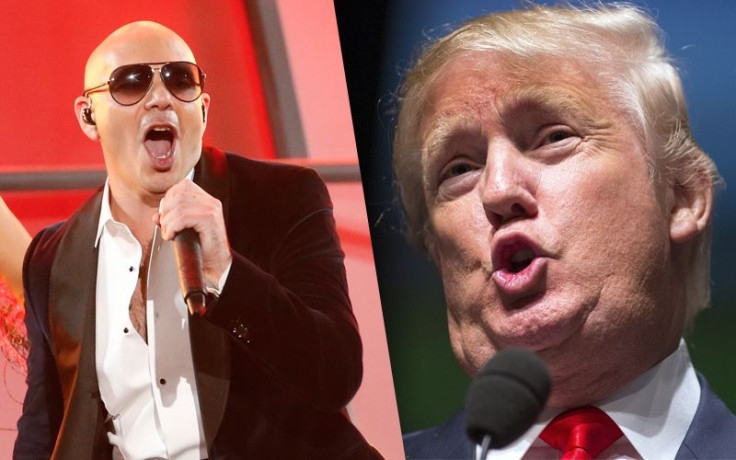 All Latinos have banded together after Donald Trump made disgusting remarks about Mexican immigrants and Latinos in general. The presidential hopeful has lost out on multiple contracts and the Miss USA and Miss Universe pageants from being broadcasted on NBC and Univision. Now, Mr. Worldwide, known as Pitbull is weighing on on the matter. "I think Trump is far from ignorant," he told Billboard magazine, "but I don't think he really understood what he was saying and the power of Latinos. [He didn't understand] how we're always united, and how we truly respect this country way too much; we respect the liberty it gives us to control our own destiny, and the opportunities it gives us to take our families to other levels. I don't think he really put all that together. But, to each his own. El tipo se comió tremendo cable (The guy is in hot water)."
Other Latin celebrities have followed suit and made similar comments denouncing Trump. Cristián De La Fuente, who was to host the Miss USA pageant in a simulcast in Spanish for UniMás said: "Mr. Trump, as a Latino I cannot work in an event associated with your name," he said. "The statements made against Mexicans, against immigrants, show that you are an ignorant. It is unacceptable for you to launch a presidential campaign based on hatred and discrimination when calling Mexicans drug traffickers and rapists. It's a shame that such an important institution as MISS USA is now in the hands of a clown."
Roselyn Sánchez was also to co-host the event and dropped out of her duties saying the following: "As a LATINA and proud of my roots, culture and everything we have contributed to this nation, I have decided to cancel my participation as co-host of Miss USA," Sánchez posted on Instagram. "I don't tolerate the disrespectful and hurtful words that came out of Mr. Trump's mouth." Roselyn continued her statement: "It seems like a like that in his announcement as a presidential candidate he would have that lack of judgement and decency. Mexicans, like all our Latino brothers have contributed positively to this great nation. We are the force that keeps this country afloat. I was very excited and grateful with the opportunity to serve as a co-host of this great event in which many Latinas have shined, but I am more excited for the loyalty to my people. Enough with racism and "influential" people that belittle."
Zuleyka Rivera, who was going to sit in the panel of judges for Miss USA, also quit the show after Trump's insults. With the responsibility and firmness that has always characterized me, I'm announcing that I have canceled my participation as judge at the Miss USA 2015 event," read the statement she posted on Twitter. "As a Latina, I don't agree with the comments made by Mr. Donald Trump referring to our Mexican brothers." J Balvin was scheduled to perform during the main event and canceled his appearance a day before Univision made the official announcement they were not airing the show. "It was going to be my first performance on national [mainstream] television," Balvin told Billboard. "We're talking about our roots, our culture, our values. This isn't about being punitive, but about showing leadership through social responsibility. His comments weren't just about Mexicans, but about all Latins in general."
© 2023 Latin Times. All rights reserved. Do not reproduce without permission.