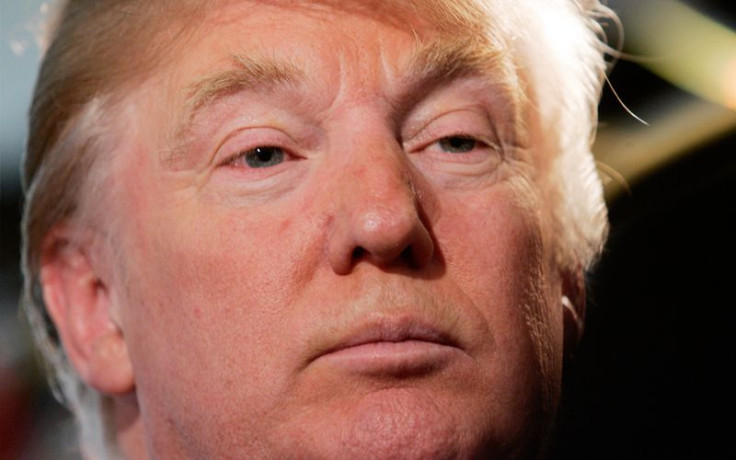 Donald Trump has had a rough week and for a very good reason. The POTUS hopeful went on a rant against Mexican immigrants when he announced he was running for the Republican party nod. "When Mexico sends its people, they're not sending the best. They're not sending you, they're sending people that have lots of problems and they're bringing those problems," he said. "[Mexican immigrants] are bringing drugs, they're bringing crime. They're rapists and some, I assume, are good people, but I speak to border guards and they're telling us what we're getting. I would build a great wall, and nobody builds walls better than me, believe me, and I'll build them very inexpensively, I will build a great, great wall on our southern border. And I will have Mexico pay for that wall."
These racist remarks were not taken well for obvious reasons as they are comments full of hate. Shortly after his speech made the rounds, Univision, who had just signed a deal with the businessman to air the Miss USA and Miss Universe pageants, announced they were breaking ties with him. After that, all hell broke loose and everyone started dropping like flies. Talent for the event were denouncing Trump's stance and businesses soon followed. Here is a roundup of all celebrities and businesses that have dumped the Trump over the week:
1. Univision Breaks Ties: "Today the entertainment division of Univision Communications Inc. announced that it is ending the Company's business relationship with the Miss Universe Organization, which is part-owned by Donald J. Trump, based on his recent, insulting remarks about Mexican immigrants," the network said in a statement. "At Univision we see first-hand the work ethic, love for family, strong religious values and the important role Mexican immigrants and Mexican-Americans have had and will continue to have in building the future of our country. We will not be airing the Miss USA pageant on July 12th or working on any other projects tied to the Trump Organization. Univision News and the local news division will continue to provide comprehensive coverage of all candidates, including Mr. Trump, to ensure our audience continues to have access to all points of view."
2. Cristián De La Fuente Drops Co-Hosting Gig: "Mr. Trump, as a Latino I cannot work in an event associated with your name," he said. "The statements made against Mexicans, against immigrants, show that you are an ignorant. It is unacceptable for you to launch a presidential campaign based on hatred and discrimination when calling Mexicans drug traffickers and rapists. It's a shame that such an important institution as MISS USA is now in the hands of a clown."
3. Roselyn Sanchez Quits Miss USA: "As a LATINA and proud of my roots, culture and everything we have contributed to this nation, I have decided to cancel my participation as co-host of Miss USA," Sánchez posted on Instagram. "I don't tolerate the disrespectful and hurtful words that came out of Mr. Trump's mouth." Roselyn continued her statement: "It seems like a like that in his announcement as a presidential candidate he would have that lack of judgement and decency. Mexicans, like all our Latino brothers have contributed positively to this great nation. We are the force that keeps this country afloat. I was very excited and grateful with the opportunity to serve as a co-host of this great event in which many Latinas have shined, but I am more excited for the loyalty to my people. Enough with racism and "influential" people that belittle."
4. Jimmy Kimmel's Guillermo: The funny guy, had some strong choice words for Mr. Trump to the tune of "America The Beautiful" mariachi-style.
5. Zuleyka Rivera Drops As Judge: "With the responsibility and firmness that has always characterized me, I'm announcing that I have canceled my participation as judge at the Miss USA 2015 event," reads the statement posted on Twitter. "As a Latina, I don't agree with the comments made by Mr. Donald Trump referring to our Mexican brothers."
6. J Balvin Won't Perform At Miss USA: "It was going to be my first performance on national [mainstream] television," Balvin told Billboard. "We're talking about our roots, our culture, our values. This isn't about being punitive, but about showing leadership through social responsibility. His comments weren't just about Mexicans, but about all Latins in general."
7. Cheryl Burke Cancels Co-Hosting Gig: "In light of the recent statements made by Donald Trump and the subsequent decision by NBC to cut ties with Mr. Trump, I cannot in good conscience move forward with participating in this year's Miss USA Pageant as its co-host," a statement posted on her official Facebook page read. "Effective today I have withdrawn from my duties with Miss USA. Although I will not be there in person, I wish all of the contestants much luck as I know how hard they've all been working over the last year to try and realize their dreams."
8. Macy's Ends Business Relationship: "Macy's is a company that stands for diversity and inclusion. We have no tolerance for discrimination in any form. We welcome all customers, and respect for the dignity of all people is a cornerstone of our culture. We are disappointed and distressed by recent remarks about immigrants from Mexico. We do not believe the disparaging characterizations portray an accurate picture of the many Mexicans, Mexican Americans and Latinos who have made so many valuable contributions to the success of our nation. In light of statements made by Donald Trump, which are inconsistent with Macy's values, we have decided to discontinue our business relationship with Mr. Trump and will phase-out the Trump menswear collection, which has been sold at Macy's since 2004."
9. NBC Cuts Ties, Will Not Air Miss USA: "At NBC, respect and dignity for all people are cornerstones of our values. Due to the recent derogatory statements by Donald Trump regarding immigrants, NBCUniversal is ending its business relationship with Mr. Trump. To that end, the annual Miss USA and Miss Universe Pageants, which are part of a joint venture between NBC and Trump, will no longer air on NBC . In addition, as Mr. Trump has already indicated, he will not be participating in 'Celebrity Apprentice' on NBC. "
10. City of NY Reviewing Contracts: "Donald Trump's remarks were disgusting and offensive, and this hateful language has no place in our city," Mayor Bill De Blasio said in a statement. "Trump's comments do not represent the values of inclusion and openness that define us as New Yorkers. Our Mexican brothers and sisters make up an essential part of this city's vibrant and diverse community, and we will continue to celebrate and support New Yorkers of every background."
11. Carlos Slim Dumps The Donald: "[Trump's statements] are totally out of line [...] working with such a [close-minded] person honestly doesn't seem like it will pan out for us," said Arturo Elías Ayub, Slim's son-in-law, according to Reuters, who is also the chairmen of Ora. "We think it's incredible that someone can think like this in the 21st century and have this racist position."
12. Eugenio Derbez, in a very original way called Trump out.
13. Shakira Chimes In: "This is a hateful and racist speech that attempts to divide a country that for years has promoted diversity and democracy!," she expressed. "No one living in this century should stand behind so much ignorance."
14. Ricky Martin Drops Out Of Charity Tournament: "Lots of hatred and ignorance in your heart," he wrote on Twitter mentioning Donald Trump.
15. America Ferrera Writes Letter: "You see, what you just did with your straight talk was send more Latino voters to the polls than several registration rallies combined! Thank you for that," she wrote. "You, Mr. Trump, are living in an outdated fantasy of a bigoted America. Last week, America celebrated some amazing milestones -- marriage equality, universal healthcare, removing of the confederate flag -- making it clear in which direction the country is moving. That is why racist remarks that play to extremists won't change the tide, no matter how hard you try. They will only serve to rally more Latino voters to the polls. Your negativity and your poorly thought out speech ignited a fire in our community. Thank you, Mr. Trump!"
16. Eva Longoria Reacts: "Thank you @nbc for respecting the Latino community and all of those who were painted by the broad brush of Donald Trump #LatinosUnidos"
17. Televisa Dumps Relationship: "Mr. Trump has not demonstrated understanding nor respect to Mexican migrantes and has offended the whole country of Mexico," they broadcaster said in a statement. "For Grupo Televisa, any form of commercial relationship with the Miss Universe pageant and companies associated with the Trump Organization is unacceptable."
18. Becky G Dedicates A Song
© 2023 Latin Times. All rights reserved. Do not reproduce without permission.