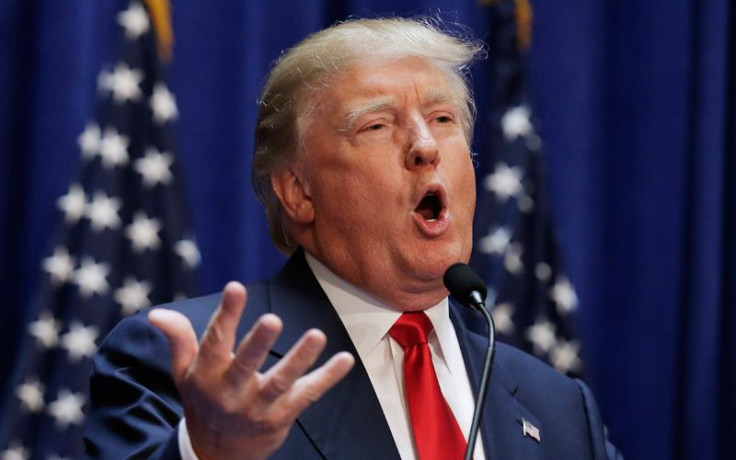 Univision cut ties with the Trump organization this morning when they announced they would not be airing the upcoming Miss USA 2015 beauty pageant or any other event by the Miss Universe Organization. The Spanish-language network was to air a simulcast of the main event for Latinos across the nation. NBC is still scheduled to air the pageant that is set to take place on Sunday, July 12 in Louisiana. However, the network has distanced itself from the comments about immigration Donald Trump made during his presidential candidacy announcement. "Donald Trump's opinions do not represent those of NBC," the peacock network said in a statement posted by Deadline. "We do not agree with his positions on a number of issues, including his recent comments on immigration." Is this enough by NBC though? By airing the event, which the Trump organization owns, is it condoning his remarks?
Univision released a statement taking a stand against Mr. Trump's horrendous comments against Mexican immigrants: "Today the entertainment division of Univision Communications Inc. announced that it is ending the Company's business relationship with the Miss Universe Organization, which is part-owned by Donald J. Trump, based on his recent, insulting remarks about Mexican immigrants. At Univision we see first-hand the work ethic, love for family, strong religious values and the important role Mexican immigrants and Mexican-Americans have had and will continue to have in building the future of our country. We will not be airing the Miss USA pageant on July 12th or working on any other projects tied to the Trump Organization. Univision News and the local news division will continue to provide comprehensive coverage of all candidates, including Mr. Trump, to ensure our audience continues to have access to all points of view."
Trump is now threatening to sue the Spanish-language network over breach of contract. "They have no termination rights whatsoever," he told Politico. "They've defaulted on their contract because of pressure put on them by Mexico." Roselyn Sanchez, who was to co-host the event in a simulcast in Spanish, denounced Trumps remarks and canceled her appearance on the show. "As a LATINA and proud of my roots, culture and everything we have cotributed to this nation, I have decided to cancel my participation as co-host of Miss USA," Sánchez posted on Instagram. "I don't tolerate the disrespecful and hurtful words that came out of Mr. Trump's mouth." Her co-host Cristián de la Fuente uploaded a video calling "The Donald" as well: "It is unacceptable for you to launch a presidential campaign based on hatred and discrimination when calling Mexicans drug traffickers and rapists. It's a shame that such an important institution as MISS USA is now in the hands of a clown."
During Trump's announcement, that he would be running for President, he made unfortunate remarks that have been deemed racist. "When Mexico sends its people, they're not sending the best. They're not sending you, they're sending people that have lots of problems and they're bringing those problems," he said. "[Mexican immigrants] are bringing drugs, they're bringing crime. They're rapists and some, I assume, are good people, but I speak to border guards and they're telling us what we're getting. I would build a great wall, and nobody builds walls better than me, believe me, and I'll build them very inexpensively, I will build a great, great wall on our southern border. And I will have Mexico pay for that wall."
© 2023 Latin Times. All rights reserved. Do not reproduce without permission.