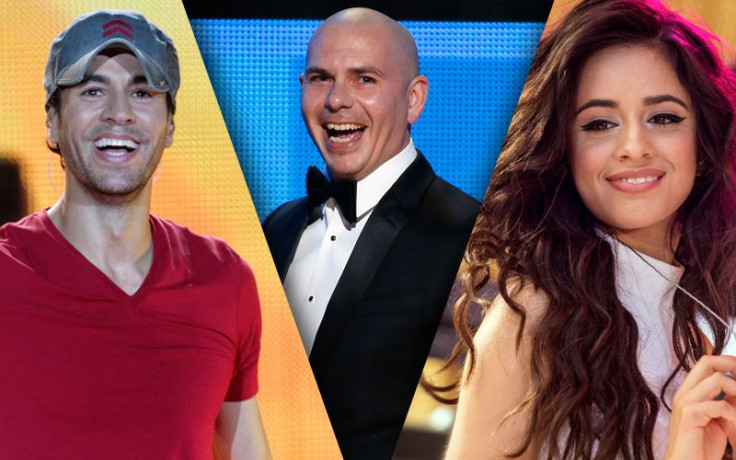 What better way to start 2015 than with a revolution? That is exactly how Pitbull will be starting off the new year and we will be witnesses to how it all goes down. The "Fireball" hitmaker is hosting "Pitbull's New Year's Revolution" live from Miami Beach and will invite some of his famous celebrity friends. Scheduled to perform are Enrique Iglesias, Fall Out Boy, The Band Perry, Becky G and the girls of Fifth Harmony. Mr. 305 himself will be performing as well heating up the beach and adding some flavor to the new year that awaits us. The smashing celebration will be going down on the FOX network staring at 8pm ET/PT, taking a break at 10pm ET/PT for the local newscast and resuming again at 11pm ET/PT.
The traditional bash on tv is "Dick Clark's New year's Rockin' Eve" on ABC. Ryan Seacrest continues the legacy ringing in the year with with a whole slate of celebrities performing in Times Square in New York live and pre-recorded numbers from Los Angeles. Taylor Swift is the main event, fending off the chilly weather and getting ready to fill in that "Blank Space" of new year resolutions. Other acts include One Direction, Iggy Azalea, Bastille, Meghan Trainor, Charli XCX, Jason Derulo, Ella Henderson, Nick Jonas, Florida Georgia Line, MAGIC!, Idina Menzel, Gavin DeGraw, Lady Antebellum and Elton John. The fun and excitement kicks off Dec. 31 at 8pm ET/PT on ABC.
NBC has "New Year's Eve With Carson Daly" programmed starting at 10pm ET/PT. Guests include Tony Bennett, Lady Gaga, Seth MacFarlane, Blake Shelton, Gwen Stefani and Pharrell Williams. MTV is going to be a little quiet with a special starting off at 11pm ET/PT. Hosted by "Eye Candy" star Victoria Justice and "Guy Code's" Charlamagne "MTV's New Year's Eve 2015" will air live from Times Square. The hosts will update viewers from the city as the comedians of "Girl Code" and "Guy Code" remember what made 2014 unforgettable. If you want to cringe all night, you can't miss CNN's annual coverage of the ball dropping with Anderson Cooper and Kathy Griffin. The awkward duo will start their broadcast at 9pm ET on the cable network.
© 2023 Latin Times. All rights reserved. Do not reproduce without permission.