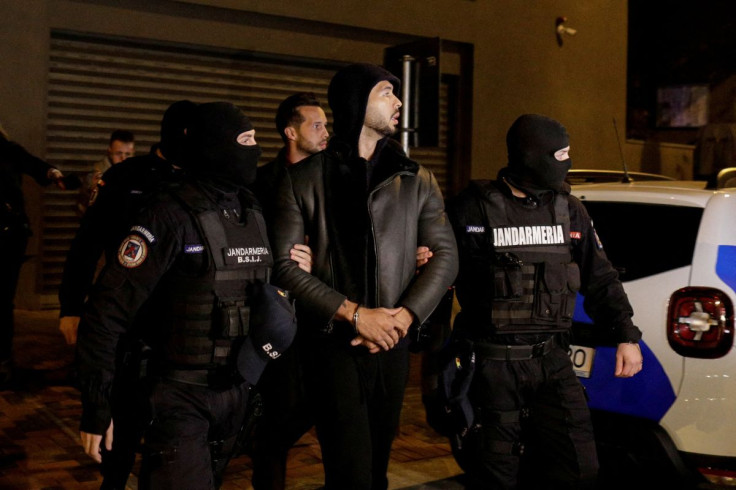 In a dramatic turn of events, a box labeled "Jerry's Pizza," a Romanian restaurant chain, prompted a raid on this polarizing social media figure's Romanian villa.
Authorities descended on Andrew Tate, 36, and his brother Tristan, 34, in their Pipera villa, located at the northern edge of Bucharest where the two were staying after a pizza box in his video response directed at environmental activist Greta Thunberg gave away their location. The British brothers were were targeted and arrested by the Directorate for Investigating Organized Crime and Terrorism (DIICOT) in Romania, Thursday, related to kidnapping, rape and sex-trafficking allegations, according to Reuters.
The former proffesional kickboxer-turned-social media sensation, was detained for 24 hours alongside his brother Tristan and two other Romanian suspects, as part of the criminal probe, prosecutors from the anti organised-crime unit said in a statement after raiding their properties in Bucharest, according to Reuters.
Romanian prosecutors mentioned they had found six women who had been sexually exploited by the suspects. Prosecutors said, "The four suspects ... appear to have created an organised crime group with the purpose of recruiting, housing and exploiting women by forcing them to create pornographic content meant to be seen on specialised websites for a cost," Reuters reported.
LADBible reported that DIICOT released a statement saying, "The prosecutors of the Directorate for the Investigation of Organized Crime and Terrorism - Central Structure together with police officers from the Bucharest Organized Crime Brigade implemented 5 home search warrants in a case in which investigations under the aspect of committing the crimes of constituting an organized criminal group, human trafficking and rape."
The Tate brothers have been under criminal investigation since the spring of 2022. Tate's home in the Eastern European nation was raided earlier this year on April 11 as part of a human trafficking investigation.
Following the April raid, which was allegedly prompted by a complaint from a US citizen to the American Embassy in Bucharest, the Tate brothers were detained for several hours for questioning but ultimately released as the investigation continued, per the Daily Mail.
On Dec. 28, Tate was told to "get a life" by climate activist Thunberg, in a Twitter post, after he told her he owned 33 cars with "enormous emissions."
After Thunberg clapped-back, Tate initially responded with a short "How dare you?!" before responding with a two-minute video of him making fun of the use of pronouns and calling her a "slave of the matrix."
According to a New York Post report, Tate asks a person off-screen to hand him two boxes of pizza but reminds them not to recycle it in an effort to further taunt Thunberg. The boxes had Romanian type on the sides, potentially letting officials know he was in the country.
A spokesperson for Tate told the DailyMail.com, "We cannot provide any details at the moment regarding alleged reports that they have been detained; however, Andrew and Tristan Tate have the utmost respect for the Romanian authorities and will always assist and help in any way they can."
© 2023 Latin Times. All rights reserved. Do not reproduce without permission.