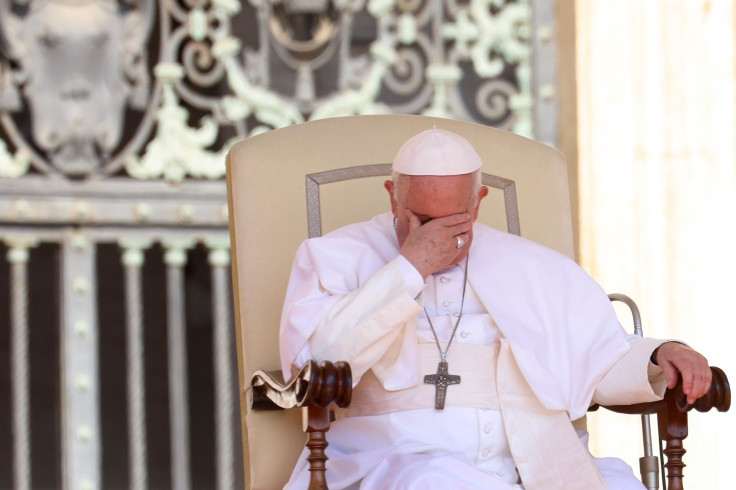 Pope Francis needs to spend a few days in the hospital in Rome due to a respiratory illness, the Vatican says.
Despite not having Covid, the 86-year-old has recently had respiratory problems, according to a statement.
According to a source with direct information who spoke to the BBC, his closest team members—including security—are anticipated to spend the night at the Gemelli Hospital.
"In recent days Pope Francis complained of some respiratory difficulties and this afternoon he went to Policlinico A. Gemelli for some medical checks," Vatican spokesman Matteo Bruni said in a statement, referring to the Rome hospital where popes are normally treated.
Bruni said, "the outcome of these [tests] showed a respiratory infection (excluding Covid-19 infection) that will require a few days of appropriate hospital medical therapy," CNN reported.
"Pope Francis is touched by the many messages received and expresses his gratitude for the closeness and prayer," the statement added.
The Easter holiday weekend marks the busiest time of the year for Pope Francis, who has a full program of events and services.
There will be a Palm Sunday Mass this weekend and festivities of Holy Week and Easter the following week.
Additionally, he has a trip to Hungary planned for the end of April.
He supervised his weekly general assembly in St. Peter's Square on Wednesday morning. Although he seemed happy, he was seen frowning as he was assisted into his vehicle.
When a television interview was abruptly canceled, Italian media questioned the Vatican's initial claim that the Pope had visited the hospital for a previously planned check-up.
President Joe Biden responded to the news by requesting "extra prayers" for the Pope's health.
The pontiff was also referred to by Mr. Biden, who is only the second Roman Catholic to be chosen as US president, as one of the "most Christ-like figures I've ever met."
Argentina's Buenos Aires, where the Pope is from, residents expressed their emotions to the Reuters news agency. The pontiff "must ask himself whether he can continue," according to one man, Daniel Saco.
Victoria Veira, a Brazilian native, said, "It is very sad because, as a Latin American, I feel represented by this Pope, who is very open-minded and human."
Francis is "physically and mentally strong" and "a person with enormous faith," according to Anibal Pizelle, who first encountered the Pope when he served as the bishop of Buenos Aires. She also expressed optimism for a full recovery.
The Pope has been using a wheelchair lately due to knee-related mobility issues.
In 2021, he also had an operation to address a colon issue. He claimed that the condition had resurfaced in January.
The Pope has traveled and continued to be busy despite his ailments. He traveled to South Sudan and the Democratic Republic of the Congo in February.
The Pope presided over Pope Benedict XVI's funeral in January. Benedict XVI was the first pope in centuries to resign willingly. He said this was due to ill health.
If his health deteriorates, Pope Francis has previously said that he might also want to follow in Benedict's path.
Pope's schedule over Easter
2 April, Palm Sunday: 09:30 (7:30 GMT) Papal Mass, 12:00 Sunday Blessing
5 April, 09:00 Papal General Audience
6 April, Holy Thursday: 09:30 Chrism Mass in St Peter's Basilica
7 April, Good Friday: 17:00 Passion of the Lord, 21:15 Stations of the Cross at the Colosseum
8 April, Holy Saturday: 20:30 Easter Vigil in St Peter's Basilica
9 April, Easter Sunday: 10:00 Easter Sunday Mass, 12:00 Urbi et Orbi in St Peter's Square
10 April, Easter Monday: 12:00, Pasquetta in St Peter's Square
© 2023 Latin Times. All rights reserved. Do not reproduce without permission.