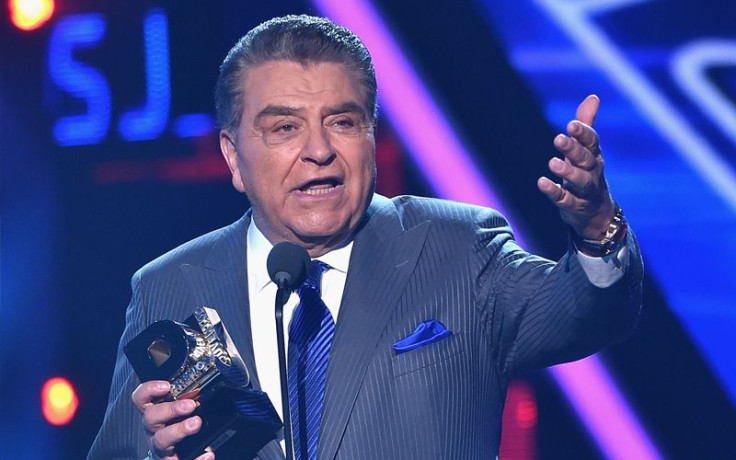 Don Francisco is ready to bow out this September from the long-running variety show "Sábado Gigante." The Chilean presenter was just honored on Univision's Premios Juventud 2015 as an icon for his work. Now Telemundo is also riding on that bandwagon and set to honor the tv host during Premios Tu Mundo 2015. Ironically, the latter was created by the Univision rival in answer to PJ and now they are even taking cues and awarding the same people. All of this seems quite odd as Mario Kreutzberger has not ended his appearance on Univision and he will be making an appearance on the rival network. Could this be paving the way for Mr. Frank to jump ship and continue a version of his program there?
Univision usually does not allow talent to cross over and promote their shows on Telemundo and vice versa. Lately they have been more lenient with singers as they appear on award shows from both networks with no problems. Let's take for example "La Voz Kids" coaches Prince Royce and Natalia Jimenez, who appear on the talent competition and later in the year perform during Univision events. It's not usual for Univision to talk about the competition, but it has become customary for Telemundo to talk about their neighbors. For whatever reason it may be, we are happy to see the lines being erased and have talent come and go as they please just like the English-language networks.
Premios Tu Mundo 2015 will air on Telemundo, Thursday, August 20 starting at 8pm ET/PT. The show is set to be hosted by Angélica Vale, Rául González, Gabriel Porras, María Elisa Camargo and "El Señor De Los Cielos" stars Rafael Amaya and Carmen Aub. The three-hour long event will have musical performances by Yandel, Lucero, Yuri, Olg Tañón, Jencarlos Canela, Alejandra Guzmán, Farruko and many more.
© 2023 Latin Times. All rights reserved. Do not reproduce without permission.