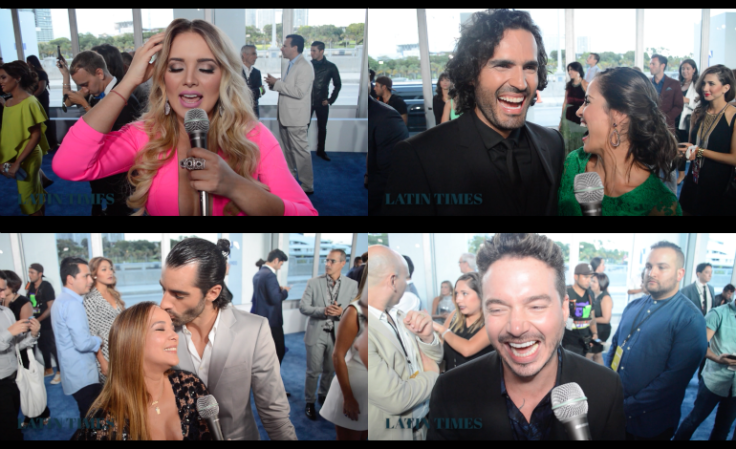 Covering a red carpet ---or blue carpet, in the case of Premios Tu Mundo--- is never easy for both press and the talent: it's exhausting, it's humid, it's mayhem! But at the same time, it's always, always, always fun! Latin Times was present at this year's blue carpet event, where we had the great pleasure of chit-chatting with some of our favorite telenovela and music stars.
The 2015 Premios Tu Mundo blue carpet was filled with a shower of stars, from Alejandra Guzman rushing to her on-air interview with Telemundo to Angelica Maria looking precious as always two media slots down. As we waited in between interviews, we couldn't help but notice some of the gorgeous women and handsome men strutting the blue carpet. For instance, we were in love with Karla Birbragher's ---Jorge Bernal's wife--- outfit, a sexy white, pant combo that hugged her in the right places. We also couldn't take our eyes off of Chef James simple yet modern look.
But let's get to the nitty-gritty! This year's award show had a lot to do with emojis and we were curious to know how celebs describe their best friends and careers with the adorable icons. That's why, we decided to release all the stress happening behind the scenes with a fun game we liked to call "Blue Carpet Blast!" Check out everything that J Balvin, Kimberly Dos Ramos, Ana Maria Canseco, Fabian Rios, Maffio, Maria Celeste, Chef James, J Quiles, Adamari Lopez and Toni Costa confessed as they played a fun game with us! Enjoy the video below!
© 2023 Latin Times. All rights reserved. Do not reproduce without permission.