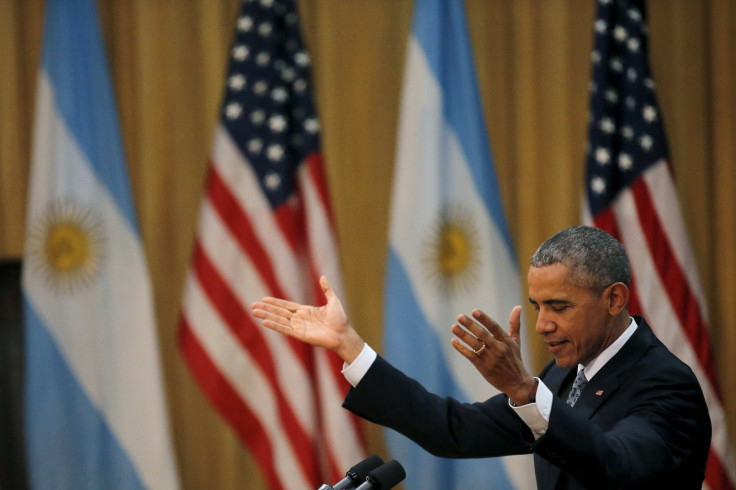 After President Obama's historic trip to Cuba, him and the rest of the First Family took off to Argentina. Although the visit to the South American country had its great moments, including POTUS and FLOTUS dancing Tango amazingly well, it also coincided with last week's tragic bombings in Belgium, for which he had to address the press immediately.
"Today the people of the United States and Argentina stand with the Belgian people and express our extraordinary sorry for the losses that they've experienced," Obama said. "The United States will continue to offer any assistance that we can to help investigate these attacks and bring these attackers to justice… My top priority is to defeat ISIS and to eliminate the scourge of this barbaric terrorism," he added.
But despite the tragedy, another good thing came out of the trip: Obama tried his first mate tea (which is an extremely popular drink that Argentinians consume from a special cup with a metal straw). "When I was in college I would read Borges or Cortázar, these people, and they were drinking mate. And I didn't know what this was," he remembered. "So I knew when I finally arrived in Buenos Aires, I would try some, and I just had some and it was quite good."
While Obama didn't seem to love it, initially, he couldn't really stop talking about it either. "My staff said I was very clear-headed in the press conference; they said it must be the mate, so I may take some home with me when I go back to the United States," he insisted.
Even though the President said he didn't know "exactly what kind of import and export controls he may be violating," he seems so smitten with the tea that he'll just use his privileged position to bring some home. "On Air Force One I can usually do what I want," he joked.
© 2023 Latin Times. All rights reserved. Do not reproduce without permission.