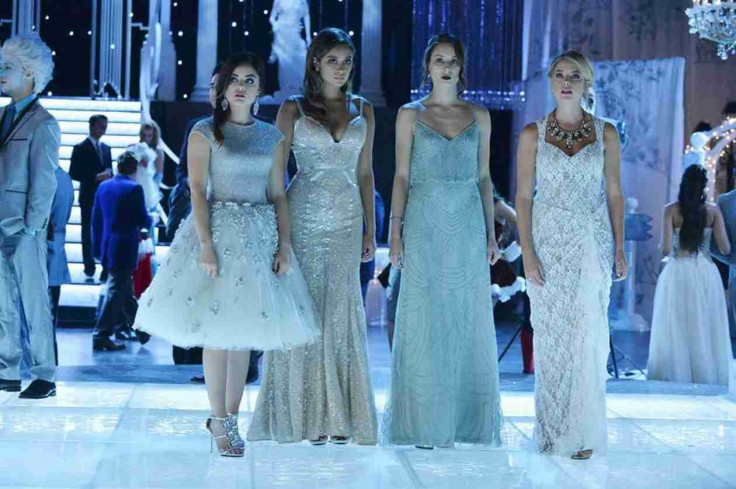 Today may be Halloween but the latest "Pretty Little Liars" promo is all about Christmas! Following the Halloween fan appreciation special, all PLL fans are now turning their attention to the forthcoming holiday episode! Even though the episode, "How The 'A' Stole Christmas" isn't set to premiere on ABC Family until December 9th, a new promo video released gives fans even more insight into what to expect.
The promo video begins with a sickly sweet Christmas greeting, an unseen narrator invites fans to "celebrate the holidays" while also showing flashes of wonderful decorations, lights and of course a Christmas feast. It seems like the Liars attempt their best to celebrate the season with Aria, Spencer, Hanna, and Emily all joined around a festive table with their respective partners set to share in a holiday meal, however the seasonal video soon takes a sinister turn.
The next shot takes fans to the DiLaurentis family hosted "Ice Ball" but instead of pretty dresses, and punch bowls, the narrator then reveals that a "Christmas mystery" will send the Liars spiraling. "A" seems to trade in his/her black hoody, for some winter whites, fans learn that a white hooded figure will be stalking the Liars at the "Ice Ball," however the girls are on high alert with Spencer telling Santa that they "cant trust anyone." The rest of the clips from "How The 'A' Stole Christmas" have been seen before by fans in earlier promo videos, but that doesn't make them any less terrifying. Spencer is seen, still wearing her gown, crouched behind a couch and clutching a knife while "A" stalks around in the dark. The next scene that is leaving fans on baited breath is a clip when Alison gets locked in Rosewood's church and she seems genuinely terrified. Check out the new promo video for "Pretty Little Liars" Christmas special "How The 'A' Stole Christmas" below and let us know what part you are most excited to see when the episode finally premieres!
© 2023 Latin Times. All rights reserved. Do not reproduce without permission.