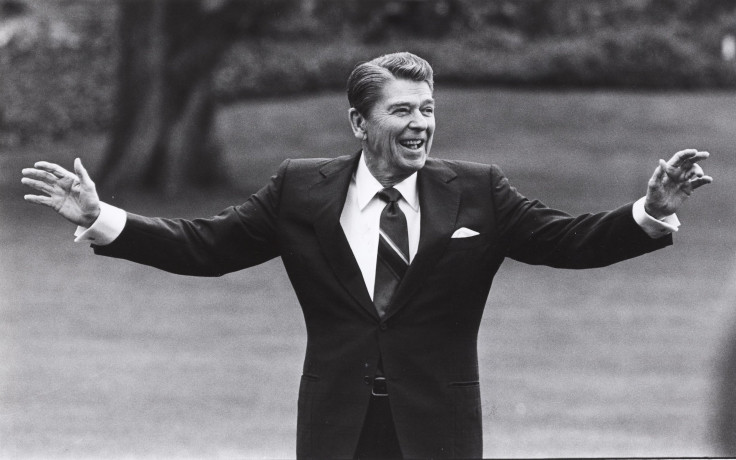 Republican presidential candidates Donald Trump Ted Cruz and Scott Walker are taking the heat in an attack ad contrasting their immigration views with those of former Republican president Ronald Reagan, who passed the 1986 Immigration Reform And Control Act, which gave immigrants in the country illegally a pathway to residency and, ultimately, citizenship. The ad, produced by the National Immigration Forum Action Fund, will air during the Sept. 16 Republican debate hosted by CNN, according to the Washington Post.
Ronald Reagan used to be the gold standard of Republican values. But he would have a tough time running for president in 2016. The most energetic blocks of the Republican base have moved in the opposite direction of Reagan.
Figures like Donald Trump and Ted Cruz are challenging the status quo, surfing a long wave of Tea-Party support, a backlash against Barack Obama's 2008 election that's challenged the GOP's mainstream as well.
The ad plays a clip if Reagan's "shining city on a hill" speech, his farewell address that alluded to the U.S. being a welcoming country, ready to take in immigrants.
"If there had to be city walls," Reagan said, "the walls had doors and the doors were open to anyone with the will and the heart to get here."
The ad contrasts that speech with comments from Ted Cruz and Scott walker on the campaign trail, saying that they would repeal birthright citizenship. It also cuts to Trump saying that he would build a big wall.
Trump has also said in the past that he would build a "big, very beautiful door because we want the legals to come back into the country."
Reagan signed the largest pro-immigrant legislation ever in 1986. It legalized thousands of immigrants who lived in worked in the U.S. illegally. It also sowed the seeds for Republican discontent. The bill promised to stop future waves of immigration, but failed to do so.
Immigration isn't the only issue that would complicate Reagan's path to the White House in a modern election. Reagan practically launched the War on Drugs. Libertarian Republican candidate Rand Paul supports decriminalization of drugs.
Reagan, like former president George W. Bush, expanded the national debt through massive defense and other spending. Most candidates on the podium on Sept. 16 have promised to reduce the deficit and cut overall spending.
Reagan might be a venerated figure in the Republican party, but it's unclear how much this ad might sway voters watching the CNN debate, or the coverage afterward on MSNBC and Fox, where the ad is also slated to appear. Is welcoming immigrants, like the Cold War, just a thing of the past? That will be for GOP voters to decide.
© 2023 Latin Times. All rights reserved. Do not reproduce without permission.