Joni Florea— the wife of Eduard Florea, a Proud Boy supporter, and suspect in the Capitol riots—is (almost officially) filing for a divorce. If recent reports are anything to go by, Joni decided to call it quits with Eduard after she learned about the allegations levied at her husband who was arrested Tuesday from their house in Middle Village, Queens, in connection with the deadly insurrection at the Capitol surfaced.
"Just hearing some of the details… is the reason why I'm divorcing him," she said in a phone call on Thursday. Eduard currently faces charges pertaining to federal weapons. Joni, who didn't seem surprised in the slightest about the accusations hurled at him, averred that her husband of six years was always "an angry man". "I totally believe that he plotted to do this. The only thing I was concerned about were my children. Eduard only cared about the Proud Boys," she added.
Prosecutors allege the 40-year-old software engineer had it all planned, and was prepared for the deadliest ever attack at the Capitol. His online history traces to posts that speak of sending an armed caravan to the Capitol. Eduard allegedly warned to end the life of senator-elect Raphael Warnock hours before the fateful riots.
But, it has been noted that Eduard didn't actually attend the DC siege and hence, hasn't yet been charged with participating in the violence at the Capitol or with making an online threat.
Joni, who reiterated how aghast she was by her husband's moves, alleges that a canceled ride was the only reason that stopped him as he "really wanted to go" and got dressed up in an Army hat for the occasion.
"I told him, 'if you f–ing go don't you dare to come back to my house,'" she said. "We were fighting like crazy and I think the only thing that stopped him was that that ride never came. He just sat there in silence on his phone," she added, recalling how she was in tears over their argument.
Joni however refused to comment on whether she knew about her husband's alleged attack, and stated that she'd like to communicate with authorities again first before drawing any conclusions.
She and Eduard married in 2014 and have two young kids together. They've been on a bumpy road ever since they tied the knot, all thanks to Eduard's staunch right-wing tendencies. "He was like angry and upset and definitely being brainwashed by the right-wing media," said Joni, who reported created a GoFundMe page asking for $2 million, including to pay for the divorce and to sue President Trump and Parler, where Eduard had allegedly made gnawing threats, Eduard, who's apparently oblivious to what awaits him, has been denied bail. While she was adamant about wanting a divorce, Joni said her husband — who was denied bail on Wednesday — doesn't know about her plans yet.
"He doesn't think of the consequences of his actions," Joni said of Eduard, as per a media outlet. "And I think that's the most disgusting thing about this … this is something that is going to destroy him. And it's not gonna destroy me. Because I know I'm a good person and I'm gonna walk away from this."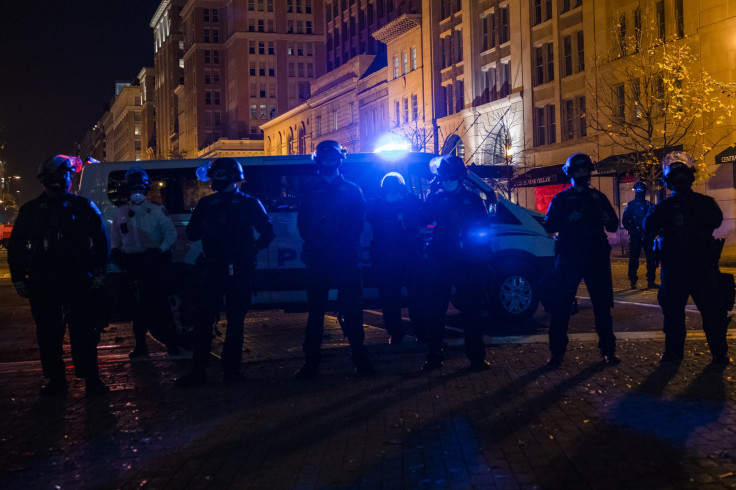 © 2023 Latin Times. All rights reserved. Do not reproduce without permission.