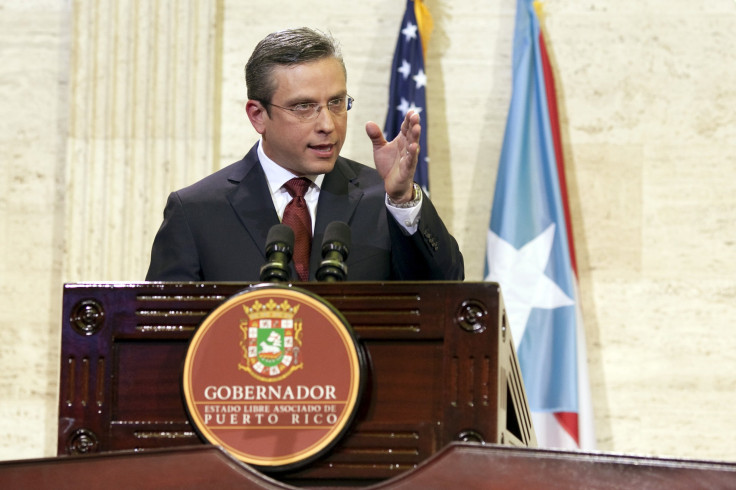 Puerto Rico, the Greece of the Caribbean, has more debt than it's can people can pay, Governor Alejandro García Padilla told the New York Times on Monday. The island's drawn out financial crisis has racked up a territorial debt of $72 billion dollars (some have argued that the debt is actually twice that number). For its shrinking population of 3.5 million people, that's a lot of debt. García had already publically acknowledge the overwhelming burden, and even explored bankruptcy as an option for washing the territories hands of the crushing repayments.
García said that he would address Puerto Ricans on Monday evening with more details.
What happens now? Three major ideas have come out of the spectre of Puerto Rico's default and Monday's announcement.
1) Let Puerto Rico file under Chapter 9, for an orderly default.
Puerto Rico's financial crisis has already had a terrible impacts on the island: spending cuts, exploding utility bills and a massive emigration, to name a few. Under existing U.S. García's government can't apply for Chapter 9 bankruptcy, the legal process that makes entities sell off major assets and pay creditors as much as they can. Congress is currently considering a bill that would allow Puerto Rico to do so.
2) Have Puerto Rico pay back its debts.
"As Puerto Ricans, we were raised to know that we pay our debts and we keep our promises. When it comes to the body politic that represents all of us, this situation is no different. Let's not throw an obstacle into our long-term prospects and hurt our ability to access the capital markets down the road. Instead, let's take the high road, follow our moral values and abide by our commitments," writes Jennifer González, a Puerto Rican legislator, in an op-ed for The Hill.
3) Creditors should just suck it up; you can't force a territory to sell of its assets.
Creditors are going to just have to suck it up, and the sooner the better, writes Tom Worstall, Fellow at the Adam Smith Institute in London, for Forbes.
"So, the solution on the island is the same as the solution in Greece should have been. They just ain't got the money so everyone needs to buck up and pay attention [....] Just don't do to Puerto Rico what people have been trying in Greece these past few years. It's immoral to impose that much economic pain over what is, after all, only money, and it doesn't work anyway," Worstall wrote.
They say that "No man is an island." Well no island is an isolated universe, either. Even if Puerto Rico's creditor swallow the loss it's going to be a tough road to resolving the debts, which are scattered between a number of government and public/private entities. Puerto Rico's embattled electricity utility Prepa started negotiating with creditors earlier this month, a process that bondholders called "disorderly and nasty," according to Bloomberg.
Puerto Rico's debt problems could ripple across America and the world, according to analysts. Puerto Rico's announcement follows the recent bankruptcies of a number of American municipalities -- Detroit, Vallejo and Stockton. That's a blow to the municipal bond market, once considered a safe investment. As municipal bonds sour -- they're apparently more risky than investors thought -- cities will have to pay higher rates in order to borrow money. International lending markets are already shuddering under the weight of Greece's default, as the country clearly can't pay back it's $400 in debt. Whatever tough choice is taken in the case of Puerto Rico, it's going to affect more than just the island's 3.5 million residents.
© 2023 Latin Times. All rights reserved. Do not reproduce without permission.