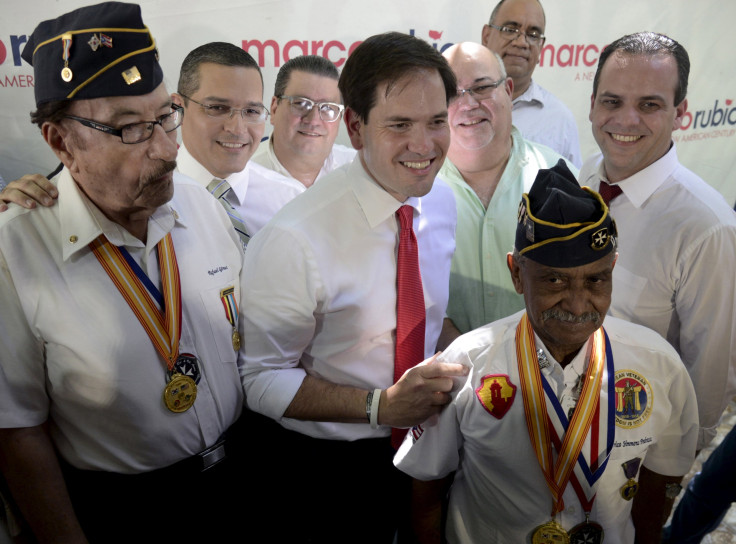 Puerto Rico's Republican primary voters go to the polls on Sunday to allocate the territory's 20 delegates . If a candidate gets 51 percent of the vote, the get the whole pie. If not, it gets diced up among the 5 remaining candidates (well, sort of, see note on Ben Carson, below). Primary voting is the only direct impact that Puerto Rico residents, who are U.S. citizens, will have on national politics in 2016. After Sunday, Republican voters in the territory won't cast ballots in the presidential election in November, nor will their vote have any bearing on the composition of congress. The penal Puerto Rico vote is already in. Here are are 7 things to look for in Sunday's GOP Republican primary.
1) Long Lines: Voter turnout is likely to be up this year, but the number of polling stations is way, way down, according to Bloomberg. The increase in GOP turnout in other states was likely fueled by support and opposition to Donald Trump. In Puerto Rico, that expected swell of voters will be crammed into just 110 polling places (down from 1,500 in 2012). However, Puerto Rico offers absentee ballots in the GOP primary vote, so those who plan ahead -- the deadline for requesting a ballot passed on Feb. 16 -- will get some relief.
2) Debt Crisis Headlines: Vulture capital firms, power utility companies, and health care on the verge of collapse. Some argue that these are symptoms of the territory's political mismanagement, other its century of colonial neglect. No doubt, the primary election will raise awareness of the island's $70 billion debt crisis and its pleas to congress for a bankruptcy bill.
3) Florida Punditry: All primaries matter, but Puerto Rico's 20 GOP delegates aren't going to crown a victor. Nor will it cut any candidate, at least directly. Indirectly however, the results could be a bellwether for Florida's GOP primary on March 15. That's because over 1 million Florida voters are from Puerto Rico. Whatever political statement GOP voters make this weekend could predict and even determine through perception which way the wind will blow in the Sunshine State.
4) Last-Minute Rallies : Marco Rubio is expected to hold a campaign rally in Puerto Rico on Saturday. Trump, Cruz and Kasich could also hold last-minute rallies -- though none have said so yet -- especially if they want to prevent Rubio from hitting the 51 percent mark.
5) Anti-Trump Rhetoric; Hearsay: Anecdotal reports indicate Trump's xenophobic comments about undocumented immigrants has translated into a perception on the island that the candidate is anti-Latino, not just anti-Illegal-immigration from foreign countries. How many of those critics are GOP primary voters is yet to be seen.
To make matters worse for Trump, Puerto Rico news outlets have smeared and misrepresented his positions. Yes, the candidate has a flexible relationship, but so do his most vehement detractors. One report circulated on social media claimed that. Another claimed that he would strip Puerto Ricans of their citizenship. Both are false.
If Trump triumphs, it may be due to his long-time presence as a real estate and hotel magnate.
6) Marco Rubio Victory (?) : There is no reliable polling of GOP primary voters ahead of Sunday's election. FiveThirtyEight isn't even trying to predict the race. There are plenty of reasons why Rubio won't win support or that his supporters won't turn out. As mentioned above, he has to win 51 percent of the vote to sweep the the territory's 20 delegates. Anything less might amount to a draw for Rubio.
Theoretically, at least, Marco Rubio has the edge. He's Cuban-American, speaks fluent Spanish, and has campaigned as heavily as anyone on the island. Perception of that advantage shows in gambling sites like PredictIt, where users are betting that he has about an 80 percent chance of winning.
7) Ben Carson Votes: Ben Carson suspended his campaign on Friday. What will happen to the support for the neurosurgeon and political outsider? He campaigned on the island, and even garnered the endorsement of Miss Puerto Rico Destiny Vélez (before she was suspended for anti-Muslim remarks on Twitter). Sure some Puerto Ricans may have already voted for him by absentee ballot. Still more might select him off of the ballot on Sunday. However, some of Carson's support is now up for grabs -- adding to the possibility of an upset from Ted Cruz or Trump is conceivable.
© 2023 Latin Times. All rights reserved. Do not reproduce without permission.