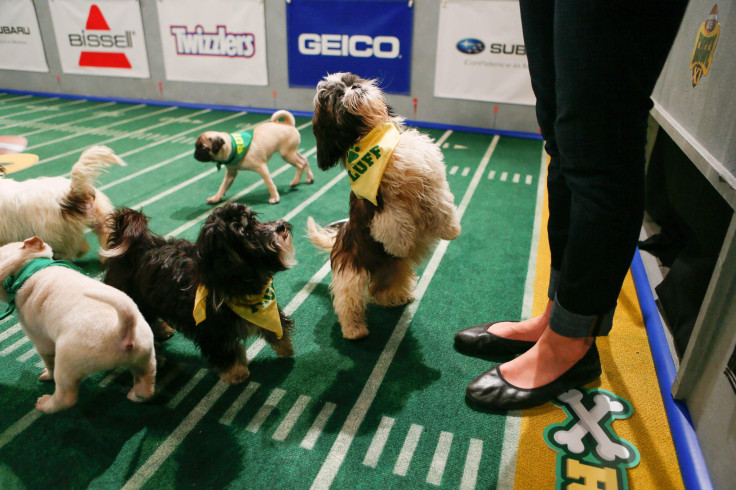 Puppy Bowl XI is almost here, and it might be even more anticipated than the Super Bowl, well amongst my group of friends anyway. The 2015 games will host Team Ruff and Team Fluff, who will face off head to head for Animal Planet's main event on Sunday at 3 p.m. Similar to it's Super Bowl XLIX competitor, the Puppy Bowl will have multiple quarters, not ending until 5 p.m. According to Animal Planet, some new features this year include competitive scoring and a new scoreboard with real-time updates. However, like all the previous bowls, there will be 63 puppies, which are all up for adoption after being discovered from shelters and rescues from around the United States.
The network has a full lineup of each and every player involved in the games with personalized and not to mention adorable video bios! But the puppies aren't the only animals involved in the event, the half time entertainment will be provided by some furry felines. The puppies, who will not only be entertained by kittens at halftime, will be cheered on by goats from New Jersey who will serve as the event's cheerleaders. Five baby Nigerian Dwarf goats will do their best cheer performance before the start of the game. The baby goats that were born and raised at Molasses Hill Farm and Guenther Farm are named, Charlie, Murphy, Speckles, Cookies and Sammy.
The Puppy Bowl will be broadcasting live on TV but also online via Animal Planet's Puppy Cam! Not only will the Puppy Cam live stream the intense game between Team Ruff and Team Fluff, but it will also show the puppy's practice and training leading up to the big game. This is the 11th installment of the canine games, so fans should prepare for it be one of the best Puppy Bowls yet!
© 2023 Latin Times. All rights reserved. Do not reproduce without permission.