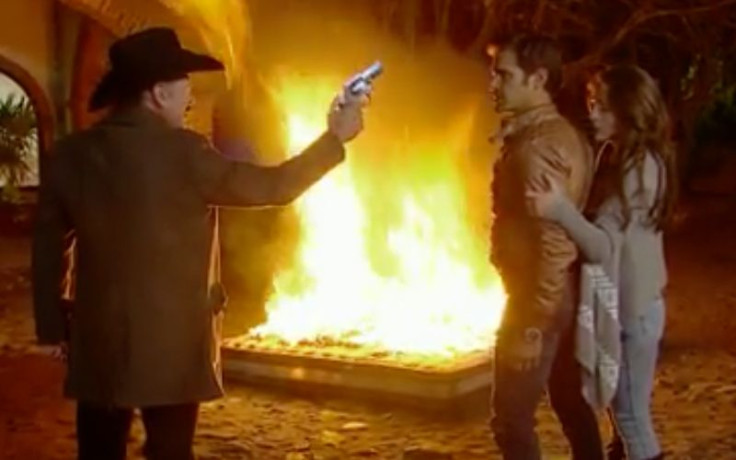 Univision's primetime telenovela, "Que Te Perdone Dios," continues to heat up. The soap starring Zuria Vega and Mark Tacher is intensifying as each episode goes by. Episode 13 has Renata (Rebecca Jones) confronting Macaria (Sabine Moussier) about her messing around with her husband. Diana Montero (Altair Jarabo) is locked in "La Enramada" and can't get it. Abigail (Zuria Vega) comes in through the back door and Diana slaps her, only to be slapped right back by Abigail. Macaria tells Renata, "I've always loved him, Fausto (Sergio Goyri) has been the love of my life. I sacrificed everything for him." Renata asks why Macaria loves him if he's a horrible person, but Macaria tells him she knows and there's nothing between them anymore as he rejects her. Macaria tells Renata that she will leave, but she wont leave with Abigail. Renata asks Macaria not to leave, not knowing she is the devil in disguise. As Diana Montero drives off "La Enramada" at night, she crosses Mateo (Tacher) who is riding on a horse, she skews away and allegedly hits her head avoiding him.
Diana was faking a head injury, she said she was only testing Mateo to see if he cared for her. Abigail and Diego (Ferdinando Valencia) burn the bed where Diana and Fausto slept in. Patricio (Rene Strickler) and Renata bond over the loss of their daughters, but he says she's lucky as Abigail is close to her; in his case he had to bury his daughter when she was 6. Renata confronts Fausto about his affair with Macaria. Fausto doesn't deny that he dropped Macaria because Renata was the one with money. Fausto is tipped off that there's a fire at "La Enramada" and asks Abigail what she is doing. Diego punches Lucio (Alejandro Avila) which propels Fausto to draw his gun on Diego. Mateo arrives at the scene and tells his uncle that before he kills Diego he has to kill him. Fausto is proud that Mateo defies him as it proves that he has his blood running through his veins. Diego quits his job with Don Fausto and the latter assures him that nobody will hire him. Abigail steps up and tells Fausto that she just hired Diego as foreman of "La Enramada."
Fausto asks Abigail to put a price on "La Enramada" and he will pay her right there and then. Abigail tells her that the land is not for sale. Fausto assures her that sooner or later, he will have the land that has belonged to his family for generations. Abigail is about to tell Mateo about Diana and Fausto, but Mateo gets extremely upset and calls her a "chismosa." The next day Abigail asks Amanda for more information about her father Pablo Ramos, but she tells her she can't say anymore. Patricio thanks Renata for listening to him and informs her that he will stay a couple more days. Constanza (Ana Bertha Espin) confuses her dream with Pablo with reality and tells Renata that he came over last night to take her away. Abigail knows the name of her father and Constanza confirms that it was Pablo Ramos that "visited" the night before. Will this force the truth about Abigail's origins out? Watch "Que Te Perdone A Dios" weeknights at 10pm ET/PT on Univision!
© 2023 Latin Times. All rights reserved. Do not reproduce without permission.