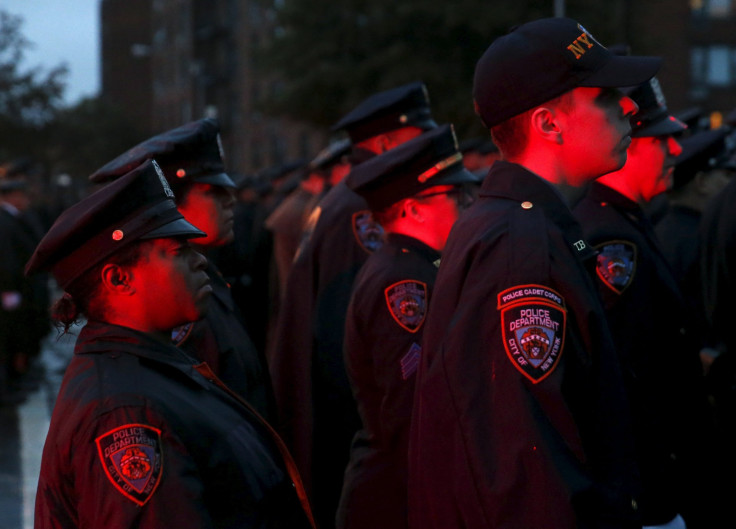 Quentin Tarantino got in trouble with police unions this week when he supported a rally against police brutality and pointed out a discomforting fact: some police officers have murdered unarmed and sometimes non-threatening citizens in recent years. Police unions denounced Tarantino with some facts of their own. More officers are being killed in the line of duty, with 2014 fatalities double those of 2013. That's included cases where it appears that shooters specifically targeted them just for wearing a badge. Meanwhile, two strange incidents of police misconduct rocked the news world this week in separate incidents that involved officers shooting themselves and inventing fictitious suspects.
1) Quentin Tarantino Calls Out Cops Who "Murder"
"I'm a human being with a conscience," Tarantino said at that rally, held in New York City. "And when I see murder I cannot stand by. And I have to call the murdered the murdered and I have to call the murderers the murderers."
That didn't sit well with LAPD Chief Charlie Beck, who told Glenn Whipp of the L.A. Times that Tarantino's blockbusters blinded him from reality.
"Mr. Tarantino lives in a fantasy world. That's how he makes his living," Beck said. "His movies are extremely violent, but he doesn't understand violence [....] Unfortunately, he mistakes lawful use of force for murder, and it's not."
"All cops are not murderers," Tarantino told The Times. "I never said that. I never even implied that."
Forget Tarantino's violent films or his remarks critical of cops. Beck has bigger problems if he's worried about the police image.
It's smaller "films" -- police dashcam videos plied out of department hands, and citizen smartphone videos -- that have undercut the credibility of police reports, often unveiling instances of not just excessive use of force, but fraternal collusion to impunity.
These are cases like the Walter Scott shooting, where police have been caught killing unarmed suspects and then lying about it, often reverse-engineering their police training to forge forensic evidence at the scene.
Most police shootings probably are lawful uses of force. But a tiny fraction lead to deaths that can be factually described as murder.
2) Meanwhile, in Arkansas
Arkansas police officer David Houser was arrested after he admitted faking a crime and inventing three suspects including an imaginary Latino man, Fox Latino reports. "He is described as a Hispanic male with little or no hair" a news description read following.
With Trump's hair parroting anti-Mexican vitriol about an imaginary Latino crime wave, do we really need a police officer making this stuff up?
"The crime scene was staged. The bullet hole was self-inflicted," said England Police Chief Nathan Cook, Houser's former boss. "He had laid out some different caliber (casings) to make it appear he had exchanged gunfire. He did discharge his service weapon."
Worse yet, investigators suspect that Houser wasn't working alone.
"Obviously he needs some help to have fabricated a shooting incident and to shoot yourself and claim you were shot at by someone who doesn't exist," Cook said.
3) Cops Threaten Boycott
On Friday, Jim Pasco, executive director of the Fraternal Order of Police, told The Hollywood Reporter that cops would "hurt Tarantino," thought they wouldn't say precisely how.
"Something could happen anytime between now and [the debut of Hateful Eight]. And a lot of it is going to be driven by Tarantino, who is nothing if not predictable," Pasco said. "The right time and place will come up and we'll try to hurt him in the only way that seems to matter to him, and that's economically," he said.
(It's just a coincidence, but we couldn't help but notice Mr. Pasco's name, the same as the police department that cleared its officers of wrongdoing after the shot and killed a mentally troubled Latino immigrant who had been throwing rocks at traffic.)
It's not uncommon to boycott the products of a political foe that you disagree with. But Los Angeles cops say that they might boycott something else: Quentin Tarantino's safety. Jerretta Sandoz, vice president of the Los Angeles Police Protective League actually suggested this to NPR.
"Off-duty police officers are very important," Sandoz told NPR's Martin Kaste. "There's motor officers, as well as patrol officers, that protect the film, protect the Oscars, direct traffic, provide security. Why would any police officer want to work with anyone who does not like police officers?"
A anti-violence organizer who marched with Tarantino in New York called the threat of a boycott "a Mafia-style protection racket," a demand for political support in exchange for the Director's freedom to make films.
4) Meanwhile, In Illinois
In what might be the most brazen act of police corruption ever committed, officer Joe Gliniewicz shot himself. But he took it a step further than Houser by faking actually faking his own murder (as opposed to his death -- he actually died).
Police are still looking into a motive, but it's suspected that he intended to shield his family from the fallout he anticipated from his embezzlement of public money. Gliniewicz was initially mourned as a hero, a cop slain in the line of duty. His fellow officers launched a massive manhunt for non-existent suspects that he had radioed in before his suicide.
Should that story make readers more skeptical or more fearful of police departments? On one hand, an officer fooled the public for months. On the other hand, it's thanks to police detectives that his his web of lies was unraveled.
5) Kentucky Officer Dies After Criminal Shot Him In The Head.
Also on Friday, another honest cop died. Daniel Ellis, 33, of the Richmond Police Department, succumbed to a bullet wound to the head that he suffered last Wednesday while responding to a robbery.
"It's just heartbreaking," Richmond Mayor Jim Barnes said, according to a WaPo article citing the AP. "It's an emotional time for everyone in the community. Those guys work so hard to protect the city."
How is the public supposed to interpret these events? Each of these cop stories are sensational, exceptional and hard to connect to a larger trend. Are police killing record numbers of unarmed minorities? We don't know for sure, because no one keeps good stats on this.
Are we facing an epidemic of police targeted killings? Around 1,550 police died in the line of duty in the past 10 years and 117 in 2014, according to law enforcement. But only a few of these deaths can be directly attributed to targetted attacks. With the information available, should presidential candidates be weighing in (as GOPers did for CNBC)?
Let us know your thoughts in the comments below.
© 2023 Latin Times. All rights reserved. Do not reproduce without permission.