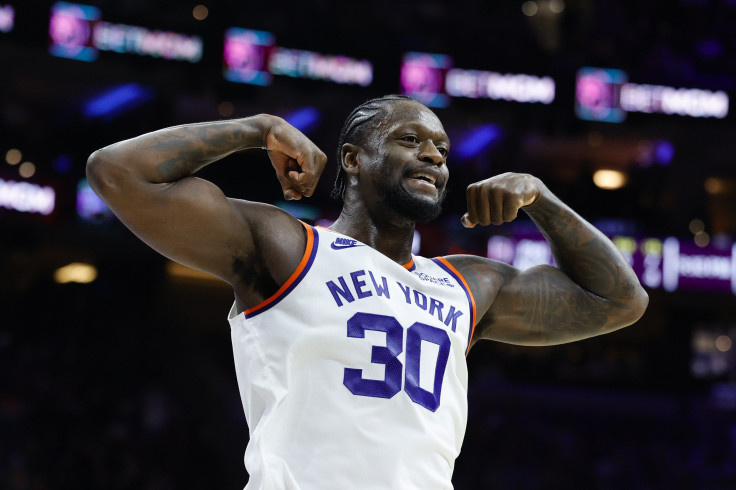 With 6 games on the schedule for Thursday's night of games, there was a lot of opportunity for some big games. With the New Year almost upon us, some of the NBA's best gave a strong performance to close the year.
Here are the top performances from last night:
1. Julius Randle, New York Knicks (41 Pts, 11 Reb, 7 Ast, 1 Stl)
Julius Randle has been consistently great this season for the Knicks. He's routinely put up big scoring numbers and monster rebound performances as he'd led New York to a respectable record. It wasn't enough last night though, as they fell to the Spurs 122-115.
2. Luka Doncic, Dallas Mavericks (35 Pts, 12 Reb, 13 Ast, 1 Stl, 2 Blk)
Luka Doncic continues to put up video-game numbers as his case for MVP only gets stronger. He had a 35-point triple-double against the Rockets right after his historic 60-20-10 triple-double against the Knicks.
3. Immanuel Quickley, New York Knicks (36 Pts, 7 Reb, 7 Ast, 1 Stl)
Immanuel Quickley got the chance to start against the Spurs with RJ Barrett and Jalen Brunson out with injuries and he took full advantage. He exploded for 36 points and along with Randle, almost propelled the Knicks over the Spurs.
4. Ja Morant, Memphis Grizzlies (19 Pts, 4 Reb, 17 Ast, 1 Blk)
Ja Morant has been incredible for Memphis this season and his vision was on full display last night against Toronto. Morant is one of the most exciting players in the NBA because of his athleticism and his court vision.
5. LaMelo Ball, Charlotte Hornets (27 Pts, 10 Reb, 9 Ast, 1 Stl, 2 Blk)
LaMelo Ball has been fantastic for Charlotte since he returned from injury. They've missed his ability to create good offense and he brings a spark that they just don't have without him. He had a big game in last night's win against the Thunder.
Honorable Mentions:
Tyrese Haliburton, Indiana Pacers (29 Pts, 2 Reb, 9 Ast, 2 Stl)
Donovan Mitchell, Cleveland Cavaliers (28 Pts, 4 Reb, 6 Ast, 2 Stl)
Kawhi Leonard, Los Angeles Clippers (26 Pts, 8 Reb, 3 Ast, 1 Blk)
Jayson Tatum, Boston Celtics (29 Pts, 11 Reb, 1 Ast, 1 Blk)
Pascal Siakam, Toronto Raptors (25 Pts, 10 Reb, 4 Ast, 3 Stl, 1 Blk)
© 2023 Latin Times. All rights reserved. Do not reproduce without permission.