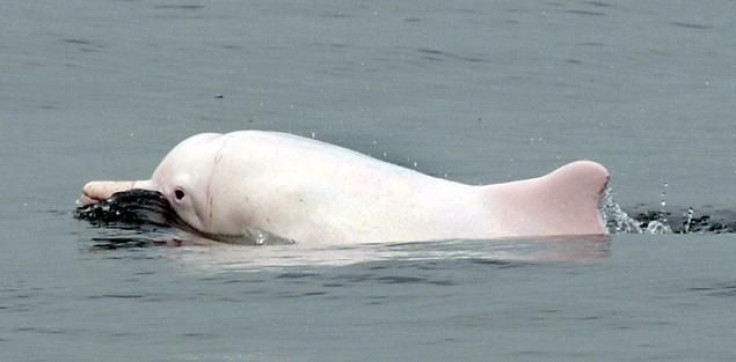 Also known as the Chinese white dolphin, between 2003 and 2011 the population has dropped from 158 to 78 and the 2012 numbers, which will be released next month, are not expected to be good, according to the Hong Kong Dolphin Conservation Society. Conservationists warn that immediate action needs to be taken or Hong Kong risks losing the dolphins altogether.
"It is up to the government and every Hong Kong citizen to stand up for dolphins," said Samuel Hung, the organization's chairman. "We risk losing them unless we all take action."
This warning comes one week after a Hong Kong DolphinWatch tour guide posted a video of a grieving mother dolphin on Facebook. Taken in the Sha Chau and Lung Kwu Chau Marine Park on April 28, the clip shows a mother and other dolphins struggle to support a dead pink dolphin calf and try to push it towards the surface.
"I started to film and it was then that I noticed the dead baby calf. From its size and color, I guessed it was a newborn. It was so depressing and so very sad," the tour guide later explained to South China Morning Post. "There was a group of four or five dolphins taking turns with the mother to try to keep the baby on the surface of the water. We watched it for about 30 minutes."
Janet Walker, spokeswoman for Hong Kong DolphinWatch, believes the calf died as a result of China's pollution. In March, Chinese Premier Li Keqiang pledged that the government will "take more vigorous efforts to clean up such pollution" but did not specify exactly how they will go about doing so; Li's most recent remarks echo earlier ones from January, when he said the resolution to China's pollution problem will "require a long-term process."
Currently, the IUCN Red List of Threatened species has the pink dolphin classified as "near threatened," and, as the World Wildlife Fund notes, China lists it as a "Grade 1 National Key Protected Species." This is not the first time the conservation society has warned of dwindling dolphin populations; in early 2012, the society announced it had set up a DNA bank for the pink dolphin in an attempt to keep the rare species from going extinct.
© 2023 Latin Times. All rights reserved. Do not reproduce without permission.