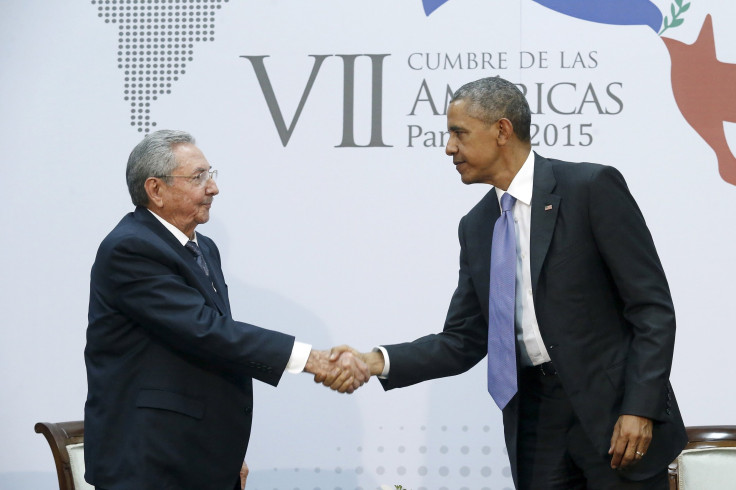 At the 7th Summit of the Americas last weekend Cuban President Raúl Castro delivered a historic speech to all 35 national delegations of the Western Hemisphere, including Presidents Barack Obama, Nicolás Maduro, and others. His speech served as a primer of Cuba's foreign policy, and an overview of recent improvements in U.S.-Cuban relations. The full speech was nearly one hour long so we summarized it here (and translated it into English), and added a bit of context to each section.
Raúl Castro's speech at the 7th Summit marked the first-ever to represent Cuba, so he calculated the time he was owed for previous speeches, and talked for almost exactly 6 times the minutes that he was allotted.
"They told me at the beginning that I could give an eight minute speech. Despite making a great effort alongside my Chancellor, trying to get it down to eight minutes, and considering that I'm owed six summits that excluded us, six times eight is 48, I asked President Varela [of Panama] for a few [extra] moments before entering this magnificent chamber so that he might cede a few more minutes."
He recognized progress in talks with the U.S., including a measure that would further infuriate Cuban-American lawmakers.
"I welcome as a positive step [Obama's] recent announcement that he will soon decide on Cuba's designation in a list of countries sponsor of terrorism, a list in which it should have never been included, imposed by the government of Ronald Reagan."
Castro's main focus was the economic blockade of Cuba, which garners little support in the international community...
"Up to this day, the economic, commercial and financial blockade is implemented all-out against the Island, causing damages and scarcities that affect our people. It is the main obstacle to the development of our economy. It constitutes a violation of International Law, and its extraterritorial scope disrupts the interests of every State. It's no coincidence that the [UN] vote [against sanctions] is practically unanimous, aside from Israel and the U.S."
... and most Americans oppose. It's never been fully supported by Obama.
"Seventy percent of the Cuban population was born under the hardships that the blockade imposes [....] but that aggression increased resistance and accelerated the revolutionary process. We have publicly expressed to President Obama, who was also born under the blockade policy and inherited it from 10 former Presidents when he took office, our appreciation for his brave decision to engage the U.S. Congress in a debate to put an end to such policy."
Despite warming relations with the U.S., Castro lashed out at the U.S. in defense of Venezuela, Cuba's longtime ally and patron.
"I should reaffirm our full, determined and loyal support to the sister Bolivarian Republic of Venezuela, to the legitimate government and civilian-military alliance headed by President Nicolás Maduro, and to the Bolivarian and chavista people who struggle to follow their own path and confront attempts to destabilize and sanction them unilaterally [....] We demand the repeal of the Executive Order."
Lastly, Castrocited Cuba's socialist vision as a potential model for solving problems across the hemisphere. If you're curious about the claims below, follow the subject-specific links to relevant articles that will tell you more.
"Cuba, a small country deprived of natural resources, that has performed in an extremely hostile atmosphere, has managed to attain the full participation of its citizens in the nation's political and social life; with universal and free healthcare and education services; a social security system ensuring that no one is left helpless; significant progress in the creation of equal opportunities and in the struggle against all sorts of discrimination; the full exercise of the rights of children and women; access to sports and culture; and, the right to life and to public safety."
You can read excerpts from Obama's Summit speech here.
© 2023 Latin Times. All rights reserved. Do not reproduce without permission.