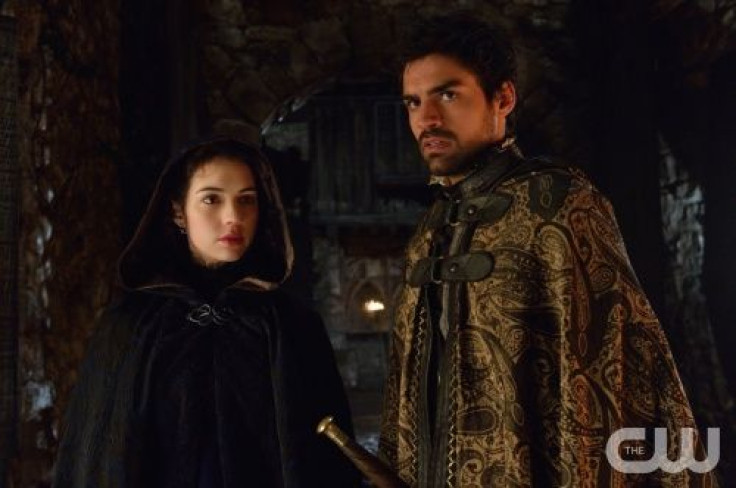 The sophomore season of "Reign" continues tonight after it's winter break, and there is a lot to catch up on. When fans were last in French Court, Francis and Mary were not only battling royal issues, but personal problems as well. Episode 11, which is curiously titled "Getaway," will premiere tonight and according to the synopsis, the emerging love triangle between Mary, Francis and Condé, will be reignited. It reads, "Mary takes action to save Condé when she learns the Vatican is hunting him for bearing the branded mark of the Dark Riders." While the Queen is doing her part to save the man who recently admitted his feelings for her, her husband, the King, is also doing his. Despite Condé's feelings for Mary, he has served the King loyally, which is why "Francis devises a plan to put an end to the Dark Riders legend, which puts Bash at risk."
Bash, in addition to harboring a very dangerous secret from his childhood, will have to battle infidelity claims. Despite having a rocky road to the proverbial aisle, Bash and Kenna have forged a passionate and respectful relationship. The promo video for "Getaway" shows someone in the castle claiming to be Bash's lover, so prepare for Kenna to not only be distraught but also on the search for answers. In the midst of this, the synopsis teases, "Kenna reveals Catherine's ulterior motives to Claude," she most likely picks up on this trail while investigating Bash and his past life. It seems like "Getaway," the first episode of 2015 for "Reign," will begin the year of Bash. With Claude's introduction to the series, his mother Diane's return and his growing relationship with Kenna, Bash's storyline seems to be getting more screen time.
Watch the winter premiere of "Reign" live tonight on The CW at 9 p.m. To watch "Getaway" online, fans can go to cwtv.com 24 hours after the premiere and watch the episode via live stream!
© 2023 Latin Times. All rights reserved. Do not reproduce without permission.