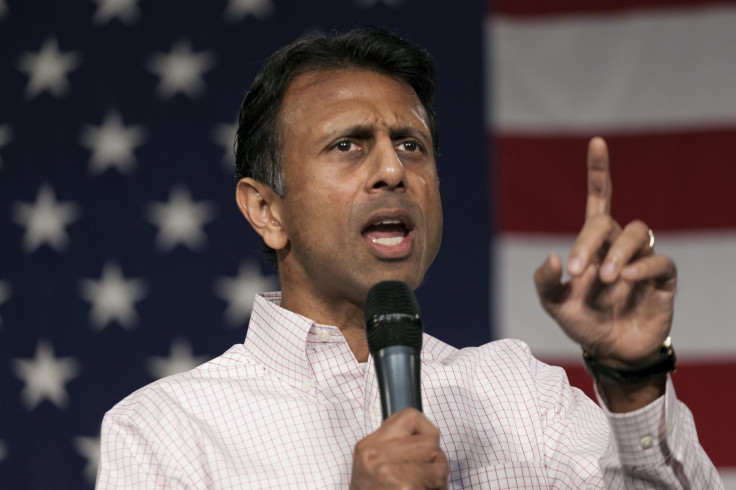 Hours before he dropped out of the 2016 presidential race, Gov. Bobby Jindal signed an executive order to "utilize all lawful means to prevent the resettlement of Syrian refugees in the State of Louisiana." Jindal is one of around 30 state governors that have expressed concern about White House plans to resettle 10,000 Syrian refugees following last week's terrorist attacks in Paris, carried out by members of ISIS, most of whom were European citizens. But are governors refusing syrian refugees breaking the law?
First of all, these governors shouldn't be lumped into one group. Most of the dissenting Governors are Republicans, and most have clashed with the Obama administration of immigration in the past. That might be where the commonalities end, as they take varying tones and legal approaches.
Maryland Gov. Larry Hogan, for example, merely requested that federal resettlements stop pending "appropriate assurances that refugees from Syria pose no threat to public safety." The White House 34 Governors in a Wednesday conference call that they refugee program is one of the safest and most thorough legal pathways into the country.
Those reassurances are unlikely to satisfy the more hardline governors who are refusing refuges through executive actions, not just oral jabs at the White House.
Texas Gov. Greg Abbot firmly stated that his office will prevent Syrian refugee resettlement, period. In a letter to President Obama, he emphasized the threat from ISIS operators and echoed reports that one of the Paris attackers possessed a counterfeit Syrian passport.
"As governor of Texas, I write to inform you that the State of Texas will not accept any refugees from Syria in the wake of the deadly terrorist attack in Paris," Abbot said.
Is that a reasonable response? it's up for debate. But can Abbot legally bar a federal refugee resettlement program from operating in his state? That's an easier question to answer.
"[These orders] basically defy federal law," says Hassan Ahmad, a D.C.-based immigration lawyer who has represented Syrian refugees.
Ahmad points to Supreme Court cases like Arizona v. United States, a 2012 case that found that "the State may not pursue policies that undermine federal law" or make laws that "conflict with [...] accomplishment and execution of the full purposes and objectives of Congress."
Barring An Act Of Congress
Congress has taken up the issue of Syrian refugees. A Republican panel in the House is expected to propose legislation in the coming weeks that might freeze or curb the Syrian refugee program.
In the meantime, what about Gov. Jindal's approach to "utilize all lawful means to prevent the resettlement?" Ahmad believes that the phrase is a contradiction -- that there is no way to lawfully undermine federal law. Abbot and Jindal, he says, are in "in the same boat."
Even if governors could legally that resettlement efforts in their states, they can't prevent Syrians refugees from entering the country, winning asylum status or settling in their states. Denise Gilman of the Immigration Law Clinic at UT Austin explained it to Kera News this way:
"[A Syrian refugee], just like anybody else living in the United States, is able to freely move around the U.S. – move from state to state, as that person chooses," Gilman says. "And a state simply cannot shut off its borders to somebody living within the United States with lawful refugee status."
With their lack of authority, Abbot and Jindal will have to lobby Congress if they're actually set on preventing Syrian refugees. Whether or not that's necessary or even a good idea is another question. Meanwhile, they'll have to take the lead from their polite Maryland colleague, or risk legal challenges from D.C.
© 2023 Latin Times. All rights reserved. Do not reproduce without permission.